Women's Devotional | 2021 - Day 3
Arresting Your Anxiety
By Ashley Brewer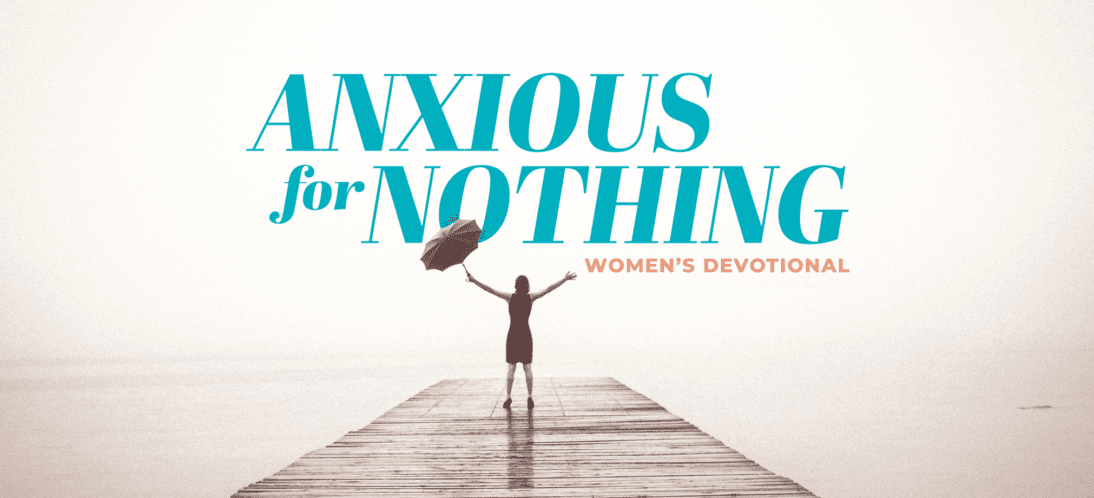 "We are destroying speculations and every lofty thing raised up against the knowledge of God, and we are taking every thought captive to the obedience of Christ."

2 Corinthians 10:5
As I dropped my daughter off at school one morning a few months ago, I ran into a beloved former teacher in the hallway. I was surprised to see her since she quit many months earlier. I asked if she was back in the classroom, and shortly into the conversation she began to tell me that when she left she was having severe anxiety and was still struggling with it. She made the comment, "But you know, it is what it is; we have thoughts and we just can't control them." I stopped her and lovingly, but firmly, stated, "No, that is not true. That is a lie."
While we cannot control the thoughts that pop into our mind, the Bible tells us that we CAN control what we do with them. When a destructive thought comes into our minds, we have the right to evict those thoughts. We can choose not to allow the thoughts to remain; we can choose not dwell on them; we can choose not to expand on them; or we can choose to cast the thoughts out of our mind like unwelcome tenants that refuse to pay rent!
The following five-step process is a discipline I began to use during a year of extreme mental sabotage. I began to see these destructive thoughts for what they were: threats to my peace, my joy, and my freedom in Christ. The Bible says the enemy seeks to steal, kill, and destroy (John 10:10). Anxious, fearful, destructive, harmful, untrue thoughts are fiery darts from the evil one seeking to steal your joy, steal your peace, steal your sanity, kill your faith, kill your hope, and destroy your effectiveness for the Kingdom. This should stir up within us a righteous indignation to fight back!
STOP – Whenever I have thoughts that begins with "what if" or "I'll never" or "I'll always," I take that as a call for a timeout and STOP.
SCRUTINIZE – The next step is to analyze the thought. Some probing questions you may ask yourself as part of this analysis could be: Is this thought true or false? Does this thought give me peace and joy or anxiety and fear? Is this thought constructive or destructive?
SOLVE – After scrubbing down the thought, assign it as either a "good" thought or a "bad" thought. A good thought is one that is true, brings peace, is useful, and gives life. A bad thought is one that is false, brings fear, is useless, and brings death. If the thought is good, keep it. If the thought is bad, make it your prisoner.
SEE – Next, visualize the process of capturing the thought. Picture this: You see a dirty, no good, sleazy conman walking up to you. He threatens you saying, "Give me everything you've got!" But then you see that you're a police officer! You have a belt around your waist with a gun and handcuffs, and most importantly, you have authority. You've been granted the authority to take anyone into custody who is a threat to the overall well-being of yourself or others. With your authority and your weapons, you take this man captive. You now see him in a jail cell, behind bars, and you are walking away. Later that man will have to answer to the judge.
SUBSTITUTE – Finally, you must replace the thought. Either you fill your mind with something good or another bad thought will float back in. The Bible tells us what we should think about in Philippians 4:8: "Finally, brethren, whatever is true, whatever is honorable, whatever is right, whatever is pure, whatever is lovely, whatever is of good repute, if there is any excellence and if anything worthy of praise, dwell on these things."
Take some time to write down the thoughts that overwhelm you most often. Then, one by one, research scriptures that address each thought and write those verses below the destructive thought. Have this ready to go for the next time the pesky thoughts come. Read, speak, or shout the Word of God in the face of your enemy.
---
Author Bio
Ashley Brewer
Financial Coordinator
Ashley is a mother to a young daughter, Tennessee transplant, and current seminary student at Dallas Theological Seminary. Ashley has been a member of First Baptist Dallas since 2015 and in 2018 the Lord called her to come serve full-time with the church, where she works in the Finance & Accounting office. When Ashley is not at the church you can find her and her daughter out in nature somewhere, hiking or camping, enjoying the beauty and splendor of the Lord's creation.
---
---
Devotional Contents:
Women's Devotional | 2021 - Day 3