Men's Devotional | 2022 - Day 14
Between a Rock and a Hard Place
By Robert Ridlon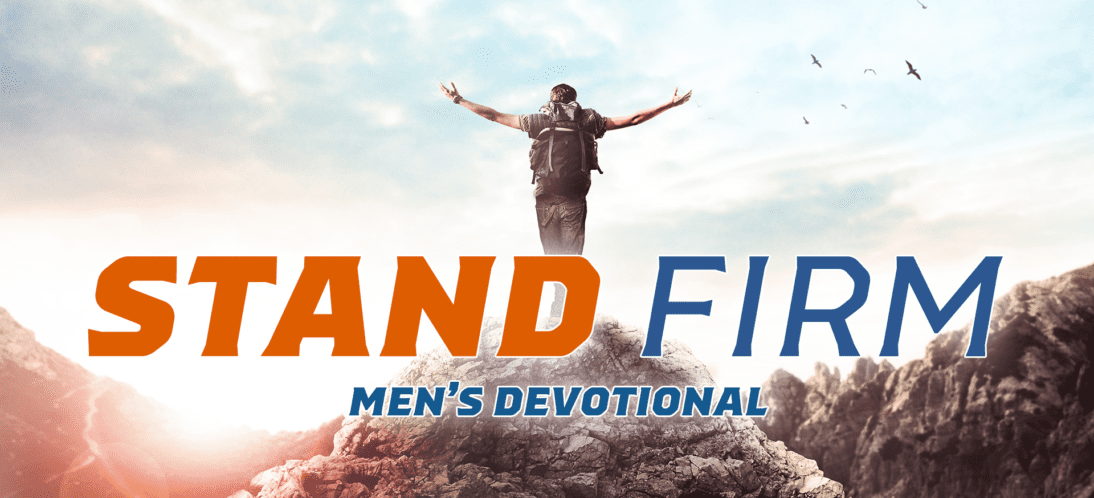 "The Lord will fight for you while you keep silent."

Exodus 14:4
H ave you ever heard the saying "between a rock and hard place?" It means you are stuck in a difficult situation, and there seems to be no way out. Have you ever been in a situation like that? One where no solution is apparent? The stress of the moment hinders our ability to think clearly, making matters worse.
I found myself in one of these situations at my job, an institution I had been a part of for almost 20 years. False statements about my character were made against me because of my religious and political views which created distrust among my colleagues. I did not want to stay in a toxic environment. However, to provide for my family, I couldn't leave. I felt trapped—pinned against the rocks with no place to go. What is a Christian man to do in a situation like that? I sought wise counsel, talked with my wife, prayed, and read the Bible.
Through my discussions, I uncovered Exodus 14, where the Israelites had left Egypt and were camping by the Red Sea. Pharaoh and his army were approaching the cornered Israelites. They felt betrayed and were trapped against the rocks of the sea with nowhere to escape.
Three truths came out of my reading.
First, God is in control. In Exodus 14:1-4, God describes what happens to Moses before it happens. He tells Moses to have the Israelites camp by the Red Sea. He will make Pharaoh angry and chase after the Israelites, ultimately glorifying God. When we go through trials, nothing can surprise God. He does not have to do damage control because He is in control!
Secondly, God wants our faith, not our help. While the Israelites were complaining, Moses was trying to reassure them in Exodus 14:14 when he said, "The Lord will fight for you while you keep silent." This was a way for the Israelites to fully express their faith in God which kept the Israelites walking forward, demonstrated in verses 15 and 16.
Finally, God is powerful. Reading through the rest of Exodus 14, we see God do amazing things. He used a pillar of fire to prevent the Egyptian army from advancing, separated the Red Sea so that the Israelites could walk through it, and caused the Egyptian army to get confused and drown between two sea walls.
Lucky for us, we know how this story ends. But imagine if we were the ones He was asking to start walking through the Red Sea. It would be hard knowing the Egyptians are still chasing you, the sea is on both sides, and you're slogging through a sea bed.
I bet they were comforted being surrounded by family and friends. They had seen many other miracles of God, and they were on their way to the promised land. Finally, they could see Moses standing with his arms stretched over them. However, this was not the end of hardship for the Israelites. They wandered in the desert for 40 years suffering from snake bites, disease, war, strife, death, and rebellion before reaching the promised land.
It has still been a hard road for me. There was no parting the Red Sea kind of moment and no destruction of the army. However, my faith in God has intensified. My Bible reading has been more thoughtful, and my Christian fellowship has been more meaningful. God loves us and will never forsake us like in Hebrews 13:6. The purpose of God's power is not to get us through the next difficulty but for us to look to Him for hope.
---
Author Bio
Robert Ridlon
Robert Ridlon is a lifelong Southern Baptist who is committed to growing spiritually ever since dedicating his life to Christ. He is married to his youth camp sweetheart, Crystal Ridlon, who serves as a Christian mental health therapist, and takes care of four highly entertaining children. Robert has a Ph.D. in Business Economics and Public Policy from Indiana University. He has taught business courses, conducted research, and consulted companies from all around the world. Moving to Dallas has quickly become the third-best decision he has made.
---
---
Devotional Contents:
Men's Devotional | 2022 - Day 14