Mission 1:8 WIN NOW Devotional | 2022 - Day 11
Beyond the Open Door
By Dr. Tyler Brinson
"He who is holy, who is true, who has the key of David, who opens and no one will shut, and who shuts and no one opens." – Revelation 3:7
Throughout the pages of Scripture, God reveals Himself to be the God of the open door. From Abraham, David, and Jeremiah, to Mary and Joseph, the twelve disciples, and the Apostle Paul, God has called countless ordinary people like me and you to serve and follow Him. However, oftentimes discerning and following God's call on your life isn't so simple. My call to ministry story is no different.
Growing up as a minister's kid, I was in church whenever the doors opened. My dad continues in ministry today and is a former Minister of Music himself. My grandfather is a retired long-term minister also. I began to sing and play the piano at age five and was heavily involved in serving in my local church's music ministry. I was in the children's choir, the youth choir, the youth band, the youth ensemble, the yodeling youths . . . Okay, I made that last one up! But, you name it, I was most likely in it. At the same time, I participated in various sports. I enjoyed the idea of kicking around a soccer ball, swinging a bat, or making three-point baskets much more than practicing scales, singing solos, and learning to sight-read sheet music. I even considered becoming a meteorologist, a medical doctor, or an airline pilot. Well, those plans didn't pan out. God had other plans in store.
Through these formative adolescent years of ministry involvement and my parent's steadfast encouragement, God began communicating His will and desire for my life in vocational ministry. I didn't know what that looked like at the time, but I wanted to serve Him and His calling on my life. God continued to open doors for me in music ministry, ultimately bringing me to where I am today.
From winning an International Teen Talent competition in both piano and vocal quartet that led me to Lee University (Cleveland, Tennessee) as well as further opportunities through the collegiate a cappella ensemble Voices of Lee, the Lord continued to open doors and pave the way for me. In my senior year of college, the Lord called me to become the worship pastor at a large local church. Hesitant, nervous, and feeling inadequate, I accepted God's call and took the leap of faith. From here, God led me to Baylor University and ministry service at Prestonwood Baptist Church. After graduating from Baylor, the Lord opened the door for me to return home to Cleveland, Tennessee, where I served as Minister of Music at First Baptist Cleveland for over eight years. I completed my doctoral studies at New Orleans Baptist Theological Seminary and also met my beautiful wife, Diana, during this time. God did incredible work in our lives during those years.
To make a long story shorter, the Lord began to prepare my wife and me for a ministry transition in 2018. Without knowing, He had laid on both of our hearts First Baptist Church of Dallas. The day before Thanksgiving 2018, I received an unexpected call to serve as Minister of Music at First Baptist Dallas. We accepted God's call and are near entering our fifth year of ministry here. We are blessed beyond measure to serve the people of First Dallas and walk in God's call on our lives. I praise the Lord for His great faithfulness, for He has blessed us exceedingly abundantly above all we could ask or imagine (Ephesians 3:20).
Proverbs 16:9 declares, "The heart of man plans his way, but the Lord directs his steps." Before accepting God's call, I certainly tried to walk my way, do my own thing, and drown out God's will for my life with other plans and distractions. However, God is a God of pursuit—continual pursuit. He chases after us, holds on to us, and opens and shuts doors for us. I'm so glad that He does. That's what it took for me to listen, respond, and obey. He will do it for you, too, and may be calling you even now. We can trust that God is faithful to equip the called.
"In the things familiar, we find security, resisting all the changes that days and years can bring. But when God decides to lead you through an open door, inviting you to walk in realms you've never known before… Beyond the open door is a new and fresh anointing. Hear the Spirit calling you to go. Walk on through the door for the Lord will go before you into a greater power than you've ever known before." – "Beyond the Open Door," Song lyrics by Shawn Craig
---
Questions for Thought
1. Has there been a time when you knew God was calling you to something? How did you respond to His calling?
2. What doors has God opened in your life that you've walked through or didn't? How has your life been blessed or affected by this decision?
---
Daily Challenge
In the spirit of Thanksgiving, I challenge you today to respond to God's perfect will and call on your life. Respond to God's open door that He has set before you. Walk by faith and not by sight. Go. Serve. Now. In Jesus' name. This is how you can WIN NOW!
Learn more about Mission 1:8 WIN NOW here!
---
Author Bio
Dr. Tyler Brinson
Minister of Music and Worship
Dr. Brinson is a Dove Award-winning worship leader who is passionate about leading and inspiring people to worship God in spirit and truth. Tyler believes corporate worship should be a rehearsal for heaven—all voices and generations praising and worshipping Jesus together. He earned his Bachelor of Science in Music Business from Lee University, his Master of Music from Baylor University, and his Doctorate of Musical Arts in Church Music from New Orleans Baptist Theological Seminary. Tyler and his wife, Diana, have been married since 2015. They are proud parents of their daughter, Savannah, and son, Parker.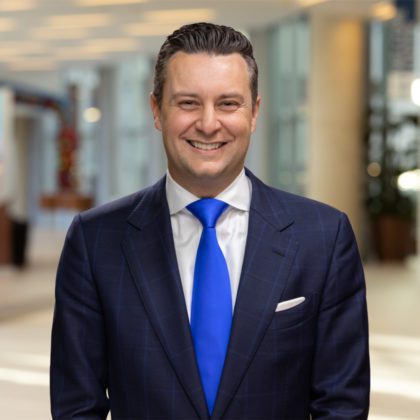 ---
---
Devotional Contents:
Mission 1:8 WIN NOW Devotional | 2022 - Day 11