HeartStrong Women's Conference
February 24 @ 6:30 pm

-

February 25 @ 3:00 pm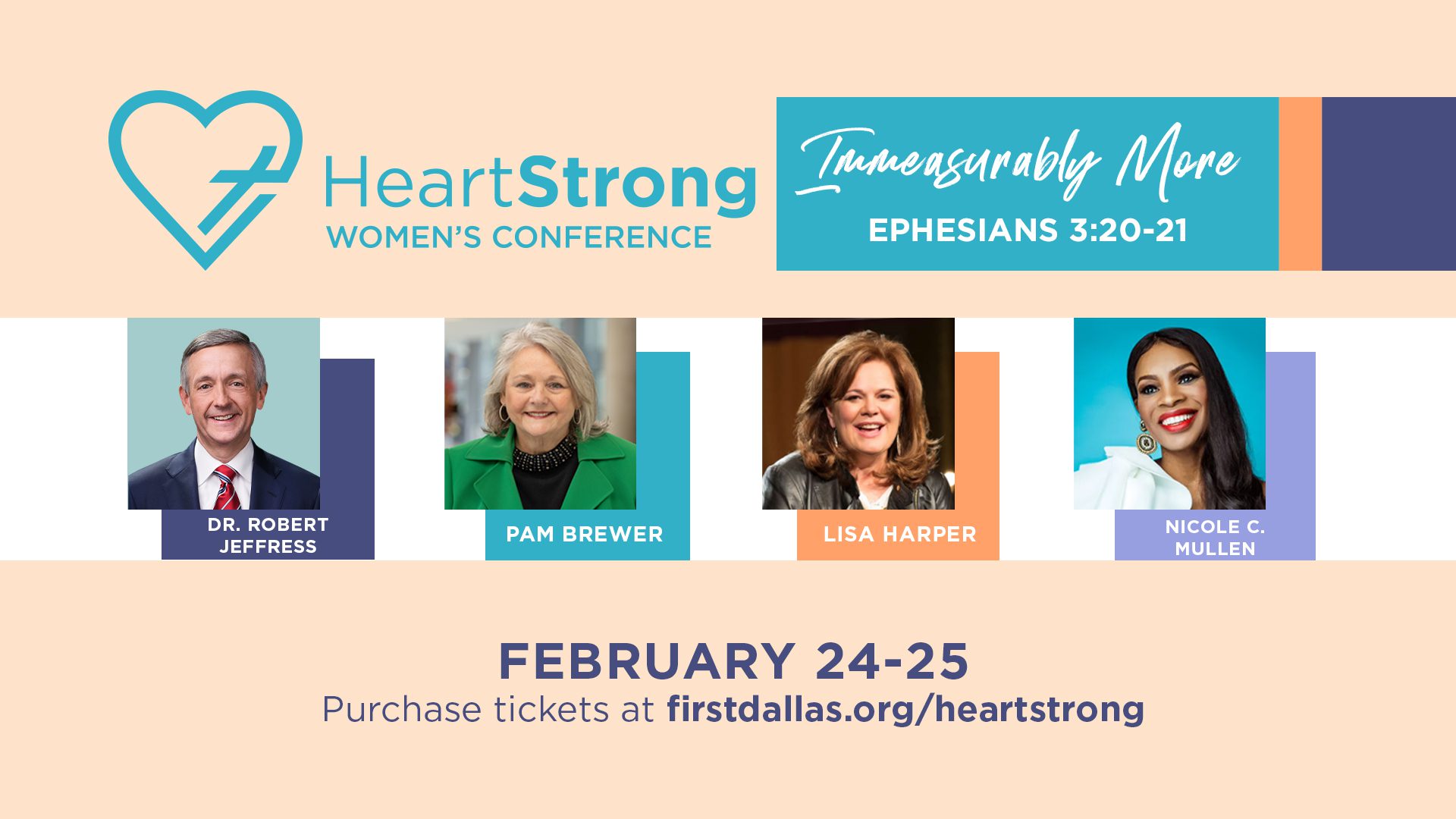 HeartStrong 2023 will be February 24-25 at First Baptist Dallas!
The HeartStrong Women's conference is a gathering of women coming together to worship, pray, learn, and ultimately lead others to Christ. Women will grow and flourish as they root themselves in the good soil of the Gospel, gaining influence and impact for the Kingdom of God.
IN PERSON REGISTRATION
VIRTUAL REGISTRATION
2023 Speakers:
Dr. Robert Jeffress
Dr. Robert Jeffress is the Senior Pastor of First Baptist Dallas and a Fox News Contributor. He is an adjunct professor at Dallas Theological Seminary, consistently makes guest appearances on various radio and television programs and mainstream media outlets, hosts a daily radio and television program, Pathway to Victory, and is the author of 30 books. He and his wife, Amy, have two daughters, one son-in-law, and three grandchildren.
Pam Brewer
Pam is passionate about representing the women of the church and equipping them for ministry to one another, encouraging them in their own discipleship to expand for the kingdom of God. She and her husband, David, have two children, Ben and Natalie, and five grandsons.
Lisa Harper
Rarely are the terms "hilarious storyteller" and "theological scholar" used in the same sentence, much less used to describe the same person but then again, Lisa Harper is anything but stereotypical! She's been lauded as a compelling communicator, whose writing and speaking emphasize that accruing knowledge about God pales next to a real and intimate relationship with Jesus. Her style combines sound biblical exposition and exegesis with engaging anecdotes and comedic wit.
Lisa's vocational resume is comprised of 30+ years of church and para-church ministry leadership, including 6 years as the director of Focus on the Family's national women's ministry where she created the popular "Renewing the Heart" conferences, which were attended by almost 200,000 women, as well as a decade of touring with "Women of Faith," where she spoke to over a million women about the unconditional love of God. Her academic resume includes a Masters of Theological Studies from Covenant Seminary, and she recently completed her doctoral studies at Denver Seminary and is now working on her thesis.
Nicole C. Mullen 
Nicole C. Mullen started as a background singer for Amy Grant, Michael W. Smith, Cece Winans, and The Newsboys. She frequently graced the stages of Dr. Billy Graham, Franklin Graham, and Women of Faith events. Mullen has received two Grammy® Award nominations and nine Gospel Music Association Dove Awards, including two Female Vocalist of the Year honors, Song of Year for "Redeemer, and On My Knee," the Urban Album of the Year for "Everyday People," Contemporary Song of the year, and the first African American female to win Songwriter of the Year for Redeemer.
She has appeared on The Today Show, Marcus and Joni Lamb/ Table Talk on Daystar, several recordings On TBN Praise broadcast of "Better Together" with Laurie Crouch, Life Today with Sheila Walsh, and other media outlets. Earlier this year, Mullen recorded a song they had written entitled "The God Who Sees" with former Host of Regis and Lee and NBC's The Today Show, Kathie Lee Gifford, with a 60-piece orchestra now appearing on www.GodWhoSees.com.
Today, Mullen speaks and sings on platforms that include governors, Heads of State, people in business, prisoners, women's conferences, churches, and nonprofits. Her ministry and travels include France, Belize, England, Jamaica, and many nations on the continent of Africa and throughout the USA.
Directions to First Dallas:
We ask that everyone parks in Ross Garage. Once you park in the garage, take the elevator down to Level 1, and walk directly across the street into the First Dallas Criswell Center Lobby. Once you have arrived, there will be an amazing team of women ready to greet you and show you where to go from there.
FAQs
When will tickets be available?

Early Bird: October 15-November 30
General: December 1-February 23
Door: February 24-25
Pricing ranges from $70 – $145

Where is the event location?

Worship Center of First Baptist Dallas or LIVE online via stream.

Where do I park?

We have free-covered garages for your convenience.

What about lunch?

When you register, you will have the option to order a box lunch. You can also discover restaurants or food trucks within three blocks of our location.

When do doors open?

Information coming soon

Is there childcare for this event?

In order to keep the price more affordable, we are not providing childcare for this two-day event.

Are there hotels near the event?

Yes, you can access hotel availability here.
Please note: First Baptist Dallas does not recommend any specific hotels for this event.

Are there restaurants near the event?

Yes, see the restaurant list below:
CAMPISI'S – 0.3 miles 1520 Elm St. Ste. 111, Dallas, TX 75201
CARMINE'S PIZZERIA – 0.1 miles 2006 San Jacinto St., Dallas, TX 75201
CHOP HOUSE BURGER – 0.5 miles 1501 Main St, Dallas, TX 75201
DICKEY'S BARBECUE PIT – 0.1 miles 726 N Harwood St., Dallas, TX 75201
EL FENIX – 0.5 miles 1601 McKinney Ave., Dallas, TX 75202
FRANKIE'S DOWNTOWN – 0.5 miles 1303 Main St., Dallas, TX 75202
PRESS BOX GRILL – 0.3 miles 1623 Main St., Dallas, TX 75201
RAVENNA ITALIAN GRILLE – 0.5 miles 115 S. Field St., Dallas, TX 75201
ST PAUL CAFÉ – 0.0 miles (First Baptist Dallas) 1707 San Jacinto St., Dallas, TX 75201
SUBWAY – 0.2 miles 400 N. St. Paul St., Dallas, TX 75201
WING BUCKET – 0.4 miles 1200 Main St. #100, Dallas, TX 75201
YOLK – (0.6 mi) 1722 Routh Street #132 Dallas

Please note: First Baptist Dallas does not recommend any specific restaurants for this event.
Related Events