Re|Engage Hosted by the Exchange
January 8 @ 9:15 am
|
Recurring Event
(See all)
An event every week that begins at 9:15 am on Sunday, repeating until April 30, 2023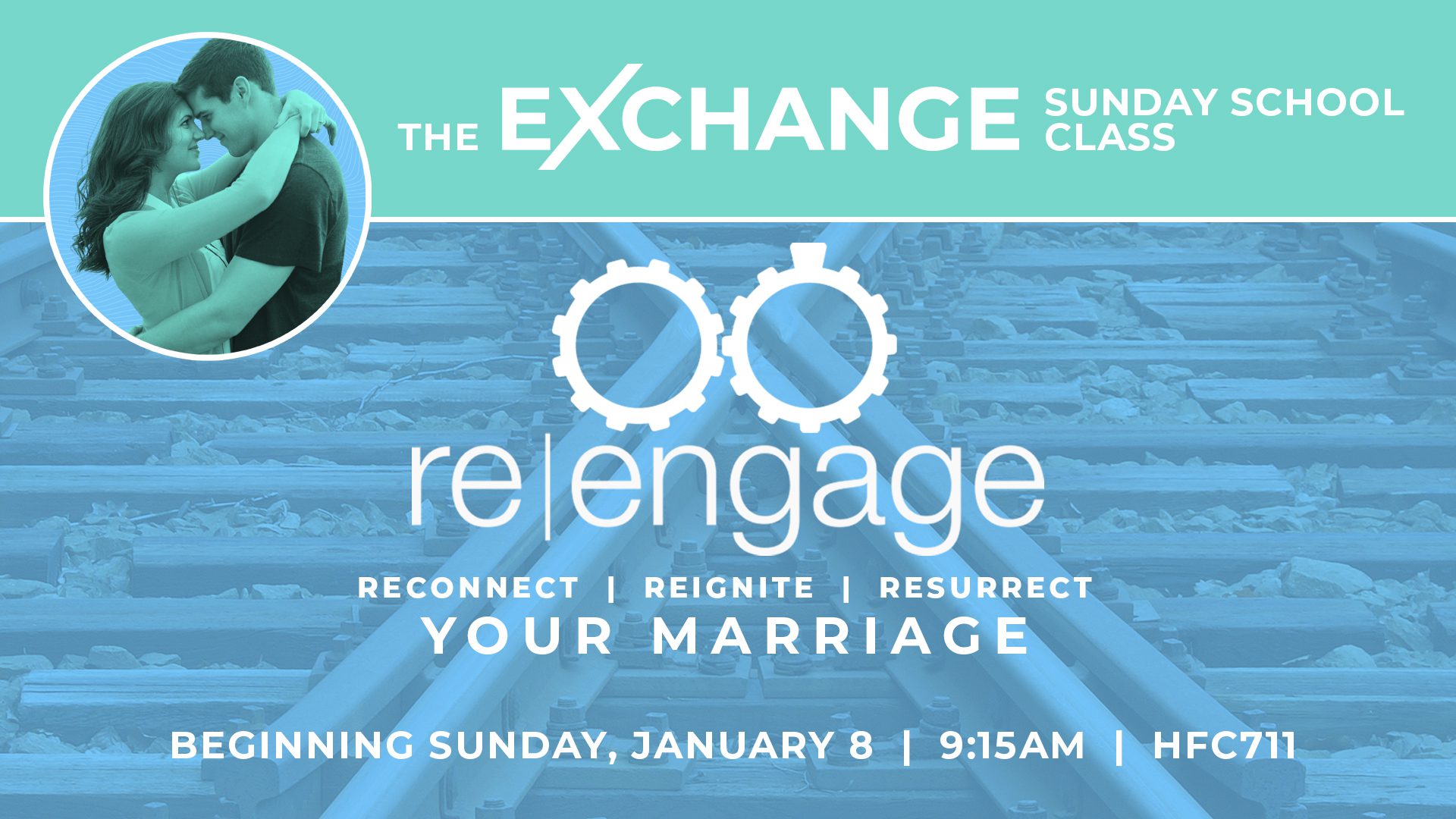 Spring registration is full, but will be available again in June.
REMEMBER THE DAY?
She's in her flowing, white dress. He's in his custom-fitted tux. The weather is pristine. The flowers are exquisite. The guests watch in awe.
It's the PERFECT WEDDING of the PERFECT COUPLE!  
They are the perfect couple. Is that even possible? 
Regardless of what you believe about perfection, it's something nearly all of us desire, especially in marriage! Almost all newly-married couples begin their lives together with gleaming and hopeful thoughts of perfection. They want more than just a good marriage. They want a PERFECT marriage!
But, when perfection fades, and it always does, the two hopeful souls who, years later, still proudly display their honeymoon photo above their mantle have made a decision. A decision to keep their marriage spark strong and vibrant. No, not perfect. But, better than the status quo. Better than average. Yet, better than average takes work. 
Being ABOVE AVERAGE takes REAL work.  
And it's that REAL work that allows average marriages to become GOOD marriages and good marriages to become GREAT marriages!  
That's where Re-Engage comes in!
What is Re-Engage?
Re|Engage is a 20-week marriage enrichment course that brings couples together to learn about God's design for marriage and apply biblical principles for building a healthy relationship. 
The next semester of Re|Engage begins Sunday, January 8, 2023, at 9:15am in Room 711 of the Horner Family Center.  
Interested couples may also preview Re|Engage during December on Sunday, December 11 and 18 at 9:15am in the Horner Family Center in Room 711.
How does Re|Engage work?
Every week begins in a large group setting, where you will hear stories of hope from other couples whose marriages have been transformed. Re|Engage leaders will then share practical steps you can take to move your marriage to the next level. 
Small Group
After meeting as a large group, participants will break off into smaller groups, with each group led by a facilitator couple. You and your small group will work through the 20-lesson curriculum and learn how to effectively communicate, resolve conflict, and grow closer to your spouse. 
Our Re|Engage Leaders
Our Re|Engage facilitators, Aaron and Brenna Coley and Jeremy and Lacey Powers, are passionate about getting to know you, hearing your story, and leading you to a healthier marriage. They will be honest about their struggles while helping you see the challenges you may have in your marriage.
Experience community
Along with the Coleys and the Powers, you and your spouse will go through Re|Engage in a group with four to six other couples who, just like you, are seeking a better marriage.
In addition to meeting weekly, small groups will bond by sharing life experiences and supporting one another. God has designed marriage to be a supportive, loving, life-giving relationship that mirrors His unconditional love for us. Re|Engage will help you better understand that design and learn how to apply it to your marriage. 
Who should attend?
Re|Engage is for one-man, one-woman couples of all ages who are married (in other words, this is not for seriously dating, engaged, or cohabitating couples). Previously married couples who are separated or divorced and are considering reconciliation are also encouraged to attend. 
Re|Engage at First Baptist Dallas includes FREE Childcare and is open to the community. You do not have to be a member or regular attendee of First Baptist Dallas to attend Re|Engage at First Baptist Dallas.
Are you ready to Re|Engage?
If Re|Engage is for you, you may join us for our next class in June! 
Related Events