Celebrate Palm Sunday & Easter with First Baptist Dallas this Sunday, April 2 & 9!
First Baptist Dallas is home for your entire family this Easter. Prepare your hearts with us as we enter into this resurrection season and grow closer to our Risen Savior.
We have exciting events for everyone in your family to attend including inspiring and uplifting worship with our First Dallas Choir & Orchestra, Band-Led team, and musical guests, encouraging, biblical messages from Dr. Robert Jeffress, and fun and interactive experiences for your children.
Scroll down below for a full list of everything we will be doing this season to celebrate the Resurrection of Jesus Christ at First Dallas on Easter Sunday!
Let Us Know You're Visiting Us This Palm Sunday & Easter!
Palm Sunday Morning
Sunday, April 2 | 9:15 & 11am | Worship Center & Historic Sanctuary
Join us for inspiring worship by Grammy nominee and Dove award winner, Anne Wilson, singer of the Song of the Year, "My Jesus,"and the First Dallas Choir & Orchestra. You will also hear an encouraging, biblical message, "The Sixth Commandment: Preserve Life" from Dr. Robert Jeffress.
Fusing a transcendent vocal, down-to-Earth storytelling and a Heaven-sent desire to glorify Jesus, Anne Wilson has torn down walls many thought would never be moved. The Lexington, Ky. native is already one of Nashville's most inspiring young trailblazers, mixing the heart of Contemporary Christian Music with the sound of Country. Called to her musical mission in the wake of tragedy, her captivating rendition of "What a Beautiful Name" was filmed and went viral, confirming a sense of purpose to bring faith where it was needed most, and do it through song. The Grammy Award nominee and Dove Award winner is known for her 2021 debut single, "My Jesus," a powerful anthem of personal conviction that became a GOLD-certified No. 1 on Billboard's Christian Airplay chart.
Watch Anne Wilson's song, "My Jesus" here.
Palm Sunday Evening
Sunday, April 2 | 6pm | Worship Center & 7pm | Klyde Warren Park
Come back for more worship led by our Choir & Orchestra and Anne Wilson, and we will observe the Lord's Supper together. Then, we will carry the cross of Jesus Christ high as we "March for Eternal Life" down to Klyde Warren Park for a worship concert at 7pm with Anne Wilson and our Band-led team.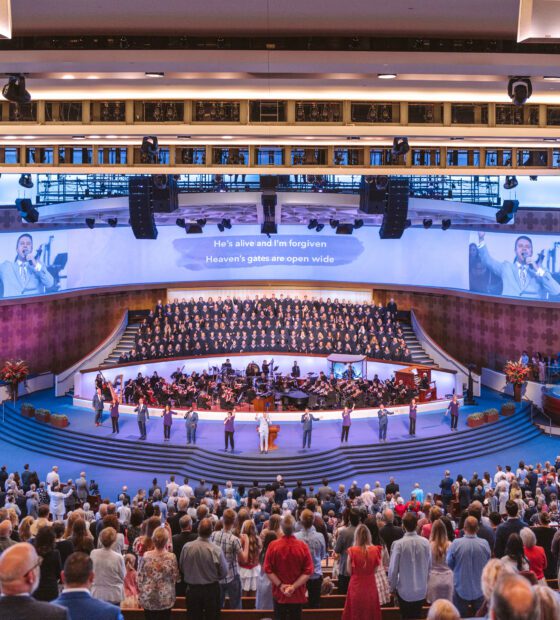 Easter Sunday
Sunday, April 9 | 9:15 & 11am | Worship Center & Historic Sanctuary
We will gather together for Easter Sunday and worship that our Savior has Risen! Dr. Jeffress will share a special Easter message, our incomparable Choir & Orchestra will lead us in worship in the Worship Center, and our Band-Led team will encourage us through contemporary music in the Historic Sanctuary.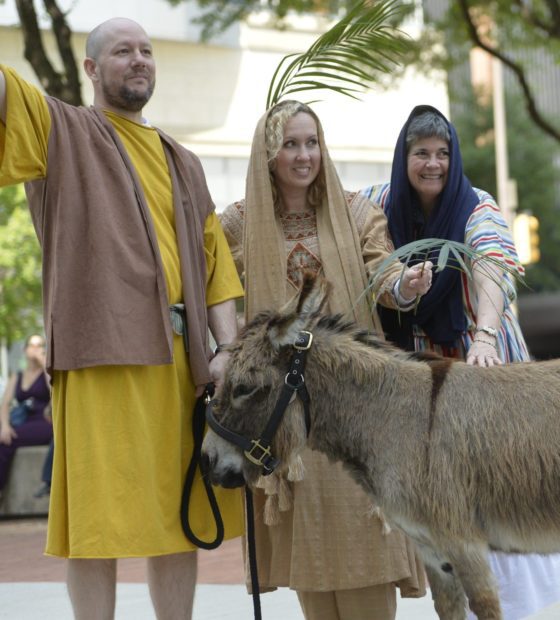 Resurrection Road & Preschoolers Praise for Kids
Sunday, April 9 | 9:15 & 11am | Horner Family Center
Kids will enjoy a fun and interactive experience of the resurrection story through Resurrection Road, and preschool children will worship our Risen Savior with Preschoolers' Praise!
Easter Devotional

Over the next 10 days, we invite you to explore the incredible prophecies that were fulfilled by Jesus Christ, in our devotional series entitled He Has Risen, Just As He Said! We will dive deeper into the significance of biblical prophecy and discover more about our Lord and Savior, Jesus Christ.

This devotional begins Friday, March 31

Lunch With The Pastor

Guests of First Dallas are invited to join Dr. Jeffress for a luncheon on Sunday, April 23. You will enjoy a first-class meal, lively conversation, and a time of Q&A with Dr. Jeffress.

Registration coming soon!

Spring Training

As the church of First Baptist Dallas, we want to work together to get spiritually fit. That means getting back into the daily and weekly habits that condition us spiritually to know and love God. When we gather in person with the church weekly, when we read Scripture and pray daily, when we give and share our faith, we experience joy and see the power of God working through us in the lives of others.

More information coming soon!