Celebrate Easter with First Baptist Dallas this Sunday, April 17!
First Baptist Dallas is home for your entire family this Easter. Prepare your hearts with us as we enter into this resurrection season and grow closer to our Risen Savior.
We have exciting events for everyone in your family to attend including inspiring and uplifting worship with our First Dallas Choir & Orchestra and musical guests, encouraging, biblical messages from Dr. Robert Jeffress, and fun and interactive experiences for your children.
Scroll down below for a full list of everything we will be doing this season to celebrate the Resurrection of Jesus Christ at First Dallas on Easter Sunday!
Let Us Know You're Visiting Us This Easter!
Easter Sunday
Sunday, April 17 | 9:15 & 11am | Worship Center
We will gather together for Easter Sunday and worship that our Savior has Risen! Dr. Jeffress will share a special Easter message,  "From Tragedy To Triumph," and our incomparable Choir & Orchestra will lead us in worship.
worship with Rebecca St. James in Day One
Sunday, April 17 | 11am | Historic Sanctuary
Among the most defining artists in Christian music history, Grammy-Winning singer/songwriter, best-selling author, speaker, and actress, Rebecca St. James rocketed into the global spotlight in 1994.
Her brand-new album Kingdom Come was released on Friday, March 25. Listen to her lead single "Praise" on streaming services now.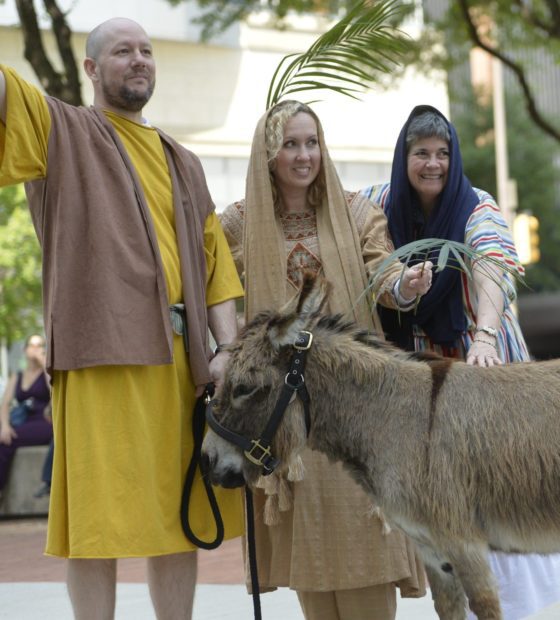 Resurrection Road & Preschoolers Praise for Kids
Kids will enjoy a fun and interactive experience of the resurrection story through Resurrection Road, and preschool children will worship our Risen Savior with Preschoolers' Praise!
Spring Training: 8 Weeks to Spiritual Fitness

When you want to get into top shape, you have to have a plan. It's always best to join with others so that you can encourage one another as you start your training program together. That's what Spring Training: 8 Weeks to Spiritual Fitness is designed to do for all of us at First Baptist Dallas.

Learn More

Dinner With The Pastor

Guests of First Dallas are invited to join Dr. Jeffress for an evening at Maggiano's on Thursday, April 21. You will enjoy a first-class meal, lively conversation, a time of Q&A with Dr. Jeffress, and complimentary valet parking!

Register Here

Girls Night

Join Madi Prewett, Rebecca St. James, and Julia Jeffress Sadler for Girls Night! Be encouraged through worship and teaching to fearlessly live out your faith. Complete with karaoke, cute merch, and a live recording of the TV show Unapologetic — this night is one for just the girls!

Learn More