Gospel Explosion
August 28, 2022 @ 6:30 pm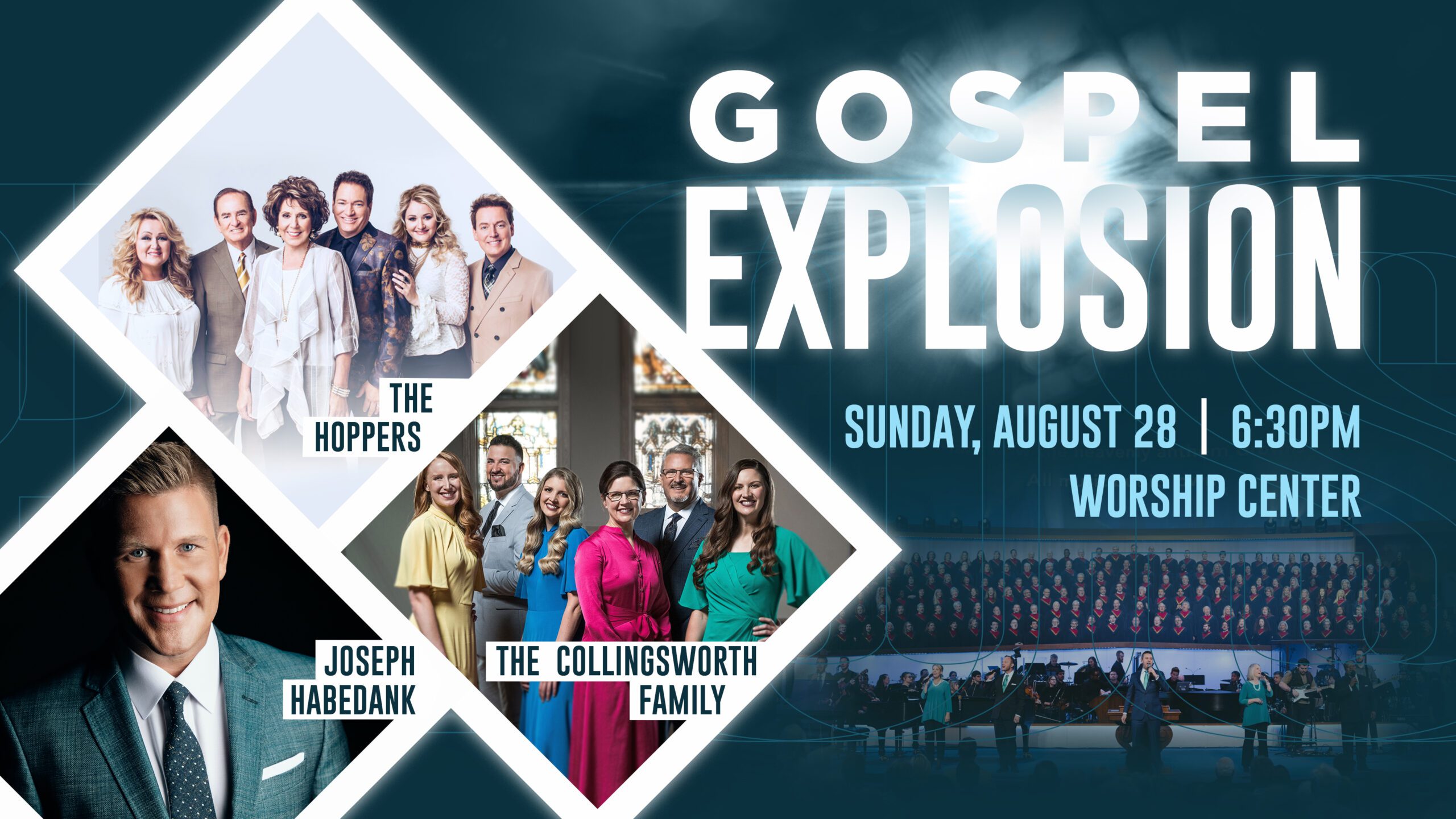 Join us for a night of worship featuring our celebrity musical guests, The Hoppers, The Collingsworth Family, and Joseph Habedank! Our 2022 Gospel Explosion concert begins at 6:30pm on Sunday, August 28 in our Worship Center, but plan to arrive early for the best seats! We hope you can experience this powerful night of worship with our accomplished musicians whose talent will truly blow your mind!
LEARN MORE ABOUT OUR CELEBRITY GUESTS
The Hoppers 
The Hoppers are a multi-award-winning family group who have been singing to global audiences for over 55 years, with appearances ranging from presidential religious inaugural ceremonies and New York's Carnegie Hall to singing conventions and church platforms. They have performed throughout the United States, Israel, Europe, and Africa. Their unique blend of harmonies and song choices has created a legacy of musical excellence embraced by leading pastors and event organizers. Known as America's Favorite Family of Gospel Music, they are favorites on the Gaither Homecoming videos and tours, and their recordings frequently land at the top of the BILLBOARD sales charts and The Singing News radio charts.
Composed today of family members Claude & Connie, son Dean and his wife, Kim, and son Mike Hopper, The Hoppers were formed in 1957 in the rural-farm town of Madison, NC, and have grown continuously for decades, touching countless lives around the world. Connie is a known cancer survivor who has been honored with the prestigious Marvin Norcross Award in addition to numerous industry and fan honors. She has also been inducted into the Southern Gospel Music Hall of Fame. Her sons, Dean and Mike, have continued the family legacy with their musical talents and business abilities; and Kim, Dean's wife, hails from her own nationally acclaimed musical family, The Greenes. She is known for the excitement she brings to any live performance, and her unmistakable, rafter-ringing soprano vocals have taken The Hoppers to new heights for many years.
The Collingsworth Family
Since Phil & Kim's first performance at a church camp in Petersburg, Michigan, in August 1986, their purpose has been to give the talent God has loaned them back to their Creator as a sacrifice of praise. The Collingsworth Family music has reached national and international levels entering into their 36th year of ministry. Kim is well-known for her mastery on the piano and Phil with his trumpet solos. Their two oldest daughters are highly comprehensive on the violin and even play at their concerts. The group has been featured regularly on the nation's largest gospel music syndicated radio program, The Gospel Greats with Rodney Baucom. They have also made appearances on XM/Sirius Satellite Radio's Enlighten Channel 65, GMT (Gospel Music Television), The DayStar Television Network, INSP, and are featured each year on Trinity Broadcasting Television Network. 
Additionally, The Collingsworth Family has appeared on the Gaither's Homecoming Series live concert events around the nation, filming events at the Grand Ole Opry, and The Billy Graham Library. They also make annual appearances at The Brooklyn Tabernacle, The Billy Graham Training Center, Shadow Mountain Community Church, and at many festivals and celebrations such as The Great Smokies PraiseFest, Branson PraiseFest, The National Quartet Convention, and Gaither's Family Fest. 
Joseph Habedank
Joseph Habedank is a two-time Grammy-nominated Christian artist who currently resides in Nashville, TN with his wife, Lindsay. He received the Dove Award-winning Southern Gospel Artist of the Year in 2020 and has been named Gospel Music's Favorite Soloist for four consecutive years from 2017-2020. Through his gift of music, Joseph has shared his testimony nationally on FoxNews.com's Spirited Debate, TBN's Praise the Lord, and in such publications as Billboard Magazine, CCM Magazine, and Glenn Beck's The Blaze. His voice has been heard across America's greatest churches and venues, including the Brooklyn Tabernacle, Charles Stanley's First Baptist Atlanta, The Grand Ole Opry, and the historic Ryman Auditorium. 
Throughout his career, Joseph has received numerous honors. First, he was awarded New Soloist of the Year in 2014 for his debut solo release, "Welcome Home". Then, Resurrection was the first album released by a solo artist to receive the Dove Award for Southern Gospel Album of the Year and garnered his first Grammy nomination for Roots Gospel Album of the Year. His accomplishments continued in 2019 during the release of Deeper Oceans, which was nominated for the Southern Gospel Album of the Year at the 50th Annual GMA Dove Awards, earning him a second Grammy nomination. His Roots Gospel Album of the year included two number one songs titled "Shame On Me" and "Goliath." His songs have been sung by musicians like Reba McEntire, Restless Heart, Dailey and Vincent, The Booth Brothers, Triumphant, Karen Peck & New River, The Hoppers, and many more.
Related Events