Old Fashioned Revival
August 1, 2022 @ 6:30 pm
|
Recurring Event
(See all)
An event every day that begins at 6:30 pm, repeating until August 2, 2022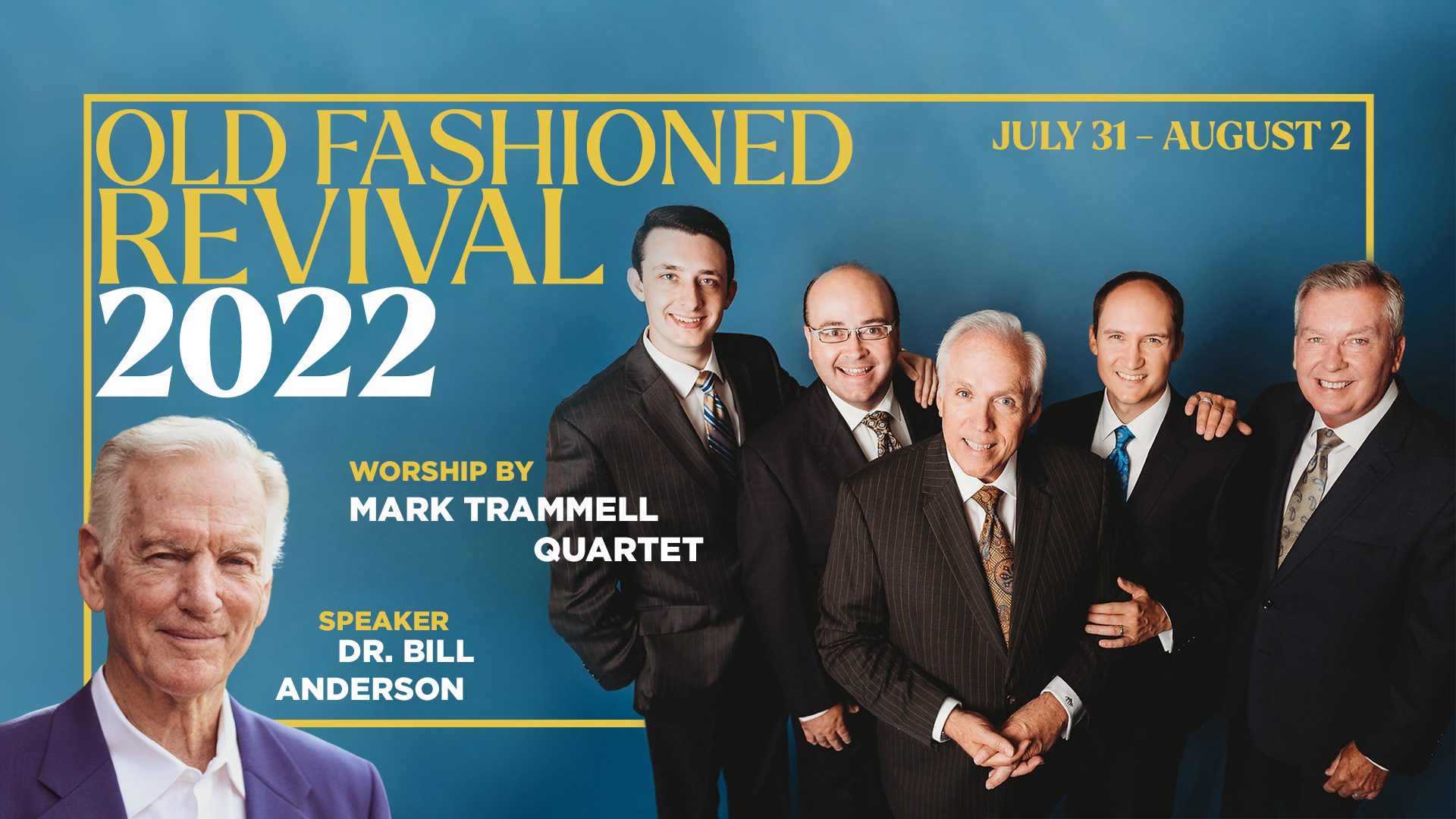 Join us for a night of authentic gospel music and powerful teaching at our Old Fashioned Revival! Each night from July 31 through August 2 at 6:30pm, we will welcome Gospel Music's renowned Mark Trammell Quartet and the acclaimed speaker, Dr. Bill Anderson, for old fashioned music and messages centered on the gospel of Jesus Christ. This Old Fashioned Revival is sure to leave you singing, dancing, and on fire for the Lord. Come for a night you won't forget!
Bill Anderson
Dr. Bill Anderson is an acclaimed writer and speaker with over 25 years of experience in radio and television broadcast. He graduated from Baylor University with a Bachelor of Arts in Religion in 1958, earned a Bachelor of Divinity at Southwestern Baptist Theological Seminary in 1963, and received a Doctor of Divinity from Trinity College in 1978. Dr. Anderson worked in the Baptist Church for over 50 years and established three Christian schools. Now, he serves as the Chancellor Emeritus of Covenant Christian Academy in Colleyville, Texas, educating students with a Biblical worldview.
Dr. Bill Anderson is the author of Rapture? Sure…But When, has written for the Southern Baptist Sunday Board, and has spoken at numerous conferences and conventions. He is extensively involved in overseas mission projects and has preached across the globe in places like Canada, Japan, China, Indonesia, Brazil, and Scotland.
Dr. Anderson was born in Humble, Texas and married his wife, Addie Williams, in 1956. They are blessed with four children, over a dozen grandchildren, and great-grandchildren.
Mark Trammell Quartet
The renowned Mark Trammell Quartet focuses on evangelism through the seamless integration of gospel music and preaching. For over 40 years, Mark Trammell has been blessed to sing gospel music. He has won multiple awards as a singer and producer and has been a member of four of Gospel Music's most acclaimed groups. Throughout his career, Mark has been privileged to perform in prestigious venues including Radio City Music Hall, Brooklyn Tabernacle, and the South Lawn of the White House. He has performed for the President of the United States and notable pastors/evangelists such as Dr. W.A. Crisswell, Dr. Charles Stanley, Dr. Tom Eliff, Dr. Bailey Smith, Dr. Adrian Rodgers, and others. 
The Mark Trammell Quartet's mission is to encourage and evangelize through gospel music and the message of Christ. The Mark Tramell Quartet lives to preach, sing, and minister the gospel of Jesus Christ.
In April 2022, the Mark Trammell Quartet celebrated 20 years of watching God do the abnormal with only two ingredients—man's obedience to the call of God and God's supernatural power to do the impossible.
Related Events