General
,

Mission 1:8 WIN NOW

,

Impact

,

One Life

,
Meet Dr. Humberto Gonzalez | Leading the Way for the En Español Ministry
By First Dallas Staff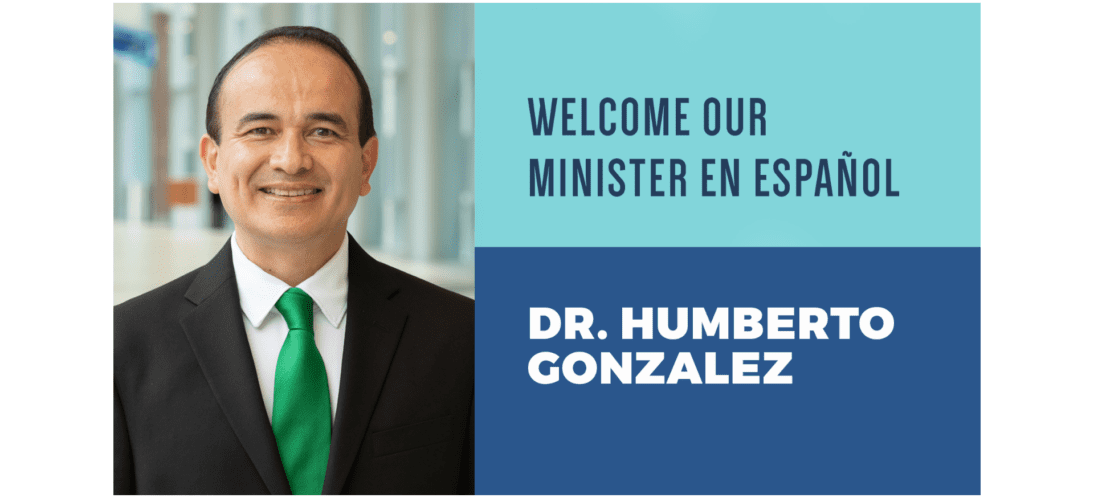 First Baptist Dallas is thrilled to unveil a historic addition to our church—the En Español Ministry. Our mission has always been to transform our world with God's Word…one life at a time. And now, we are breaking down language barriers to extend our reach to the vibrant Spanish-speaking community across DFW. Leading this exciting new ministry is Dr. Humberto Gonzalez, a devoted and passionate leader eager to create a welcoming and inclusive environment where individuals and families can experience the love of Christ, grow in their faith, and build meaningful relationships.
Short of his salvation, Dr. Humberto Gonzalez says being raised in a Christian home is one of the greatest blessings. His father, a corporate executive, felt a higher calling from God and became a church planter in Mexico. At the age of eight, Humberto embraced Jesus as his personal Savior and was baptized shortly after. Unbeknownst to him at the time, his piano lessons would later serve the Lord in a music ministry. By 13, he embarked on a small ministry in his hometown, using his musical talents to lead worship. Pursuing academic excellence, he enrolled at Panamerican University in Guadalajara, Mexico, earning a bachelor's degree in Civil Engineering and studying Music Education at the University of Guadalajara.
In 1997, Humberto's family was presented with an opportunity to move to the United States through his father's transnational corporation. After prayerful consideration, they stepped out in faith and settled in the greater Chicago area. Humberto dedicated himself to serving God wholeheartedly and was soon offered a full-time staff position in a Hispanic church in Chicago. Recognizing God's calling on his life, he embraced this opportunity to serve Him full-time in ministry, passionately sharing the gospel with the lost and nurturing the spiritual growth of believers.
Following his year of ministry in Chicago, Humberto continued to serve for seven years in a large Hispanic congregation and two years in a church plant as the Pastor of Multiethnic Ministries. God was preparing him for even greater work in His kingdom, and in 2006, he received a calling to serve as the Student Pastor at First Baptist Church of Coral Park in Miami, Florida. Guiding many individuals to Christ and witnessing life transformations through professions of faith, baptisms, and discipleship, Humberto witnessed the ongoing impact of his ministry.
In 2010, during a family visit to the DFW area, Humberto and his family felt God's leading to reach out to the Hispanic community in the region. After months of prayer, it became clear that God was calling them to move to the Mid-Cities region of Texas. Taking another leap of faith, they relocated to Texas in August 2011. In October of the same year, Humberto had the opportunity to launch the Hispanic Ministry of Cross City Church. The Spanish worship service began in the spring of 2012, witnessing numerous salvations and bringing many Hispanics into the church community. Over the years, Humberto's ministry continued to flourish, preaching hundreds of sermons, equipping musicians and vocalists, establishing worship teams and orchestras, and organizing impactful outreach events.
In December 2016, Humberto graduated with a Master of Divinity from Moody Theological Seminary in Chicago, further equipping himself for ministry. In recognition of his commitment and expertise, he completed a Doctorate in Ministry from Dallas Theological Seminary in May 2021 and was invited to serve as an Adjunct Professor. His deep passion for connecting with people and witnessing God's transformative power in their lives led him to answer God's calling to become the Minister en Español here at First Dallas. With a heart for reaching the first, second, and third generations of Hispanics locally and globally, he envisions developing a thriving ministry that embraces the cultural diversity of the Hispanic community within the walls of our church.
Humberto acknowledges that his journey is made possible by the unwavering support of his loving wife, Sarah, and five beautiful children, who not only stand by his side in ministry but actively participates in various service areas. Recognizing the blessings bestowed upon him, Humberto remains humbled, knowing that God's plan is always good. He dedicates his life to serving Jesus by loving and caring for others.