Spring Training is our annual spiritual disciplines challenge at First Baptist Dallas! The goal is to develop five spiritual habits over the course of five weeks. For 2023, Spring Training runs from April 16 to May 20, with our concluding celebration on May 21.
Our Spring Training daily journal walks you through the simple weekly plan. We also have additional resources, including an audio edition of content from our journal, a podcast reflecting on each week's Bible readings, and a video series on the 5 Habits.
We want to help you grow spiritually! Our conviction is that good spiritual habits lead to a joy-filled relationship with Jesus Christ.
The 5 Habits
The Spring Training program is built around the five habits of a healthy Christian. These are foundational spiritual disciplines that lead to a thriving life in Christ.
HABIT 1 | Gather weekly with God's people for worship and Sunday School
Acts 2:42–47
"They were continually devoting themselves to the apostles' teaching and to fellowship, to the breaking of bread and to prayer. Everyone kept feeling a sense of awe; and many wonders and signs were taking place through the apostles. And all those who had believed were together and had all things in common; and they began selling their property and possessions and were sharing them with all, as anyone might have need. Day by day continuing with one mind in the temple, and breaking bread from house to house, they were taking their meals together with gladness and sincerity of heart, praising God and having favor with all the people. And the Lord was adding to their number day by day those who were being saved."
Hebrews 10:24–25
"And let us consider how to stimulate one another to love and good deeds, not forsaking our own assembling together, as is the habit of some, but encouraging one another; and all the more as you see the Day drawing near."
1 Thessalonians 5:16–18
"Rejoice always; pray without ceasing; in everything give thanks; for this is God's will for you in Christ Jesus."
Philippians 4:6–7
"Be anxious for nothing, but in everything by prayer and supplication with thanksgiving let your requests be made known to God. And the peace of God, which surpasses all comprehension, will guard your hearts and your minds in Christ Jesus."
HABIT 3 | Read God's Word Daily
Psalm 1:2
"But his delight is in the law of the Lord,
And in His law he meditates day and night."
Psalm 119:15–16
"I will meditate on Your precepts
And regard Your ways.
I shall delight in Your statutes;
I shall not forget Your word."
HABIT 4 | Give generously to support God's work and mission
Malachi 3:10
"Bring the whole tithe into the storehouse, so that there may be food in My house, and test Me now in this," says the Lord of hosts, "if I will not open for you the windows of heaven and pour out for you a blessing until it overflows."
2 Corinthians 9:6–9
"Now this I say, he who sows sparingly will also reap sparingly, and he who sows bountifully will also reap bountifully. Each one must do just as he has purposed in his heart, not grudgingly or under compulsion, for God loves a cheerful giver. And God is able to make all grace abound to you, so that always having all sufficiency in everything, you may have an abundance for every good deed; as it is written, 'He scattered abroad, he gave to the poor, His righteousness endures forever.'"
HABIT 5 | Share the Christian faith with others
Matthew 28:19–20
"Go therefore and make disciples of all the nations, baptizing them in the name of the Father and the Son and the Holy Spirit, teaching them to observe all that I commanded you; and lo, I am with you always, even to the end of the age."
Romans 10:13–15
"For 'Whoever will call on the name of the Lord will be saved.' How then will they call on Him in whom they have not believed? How will they believe in Him whom they have not heard? And how will they hear without a preacher? How will they preach unless they are sent? Just as it is written, 'How beautiful are the feet of those who bring good news of good things!'"
The Weekly Plan
We've developed a simple training plan that you can follow each week. This will help you incorporate good spiritual habits into your life.
Sunday
Gather For Worship
Each week starts with gathering in person for worship and Sunday School. This is vital. When you begin the week by engaging with the church body, that fellowship and encouragement fuels you for the rest of the week.
Monday
Determine Prayer Priorities
Every Monday, you will determine your prayer priorities for the week. You can split your prayer priorities into three groups: what you are praising and thanking God for, what you are asking God for yourself, and what you are asking God on behalf of others.
MidWeek
Read The Bible
For each weekday, there are selected passages from Scripture that reinforce the emphasis for the week. These passages were selected to help you reflect on who God is and remind you of how He has called us to live. Each day, take a moment to write down what you are learning about God and how it might change your life. To be spiritually fit, we need to ask each day how we can better align our minds and our lives with God's truth!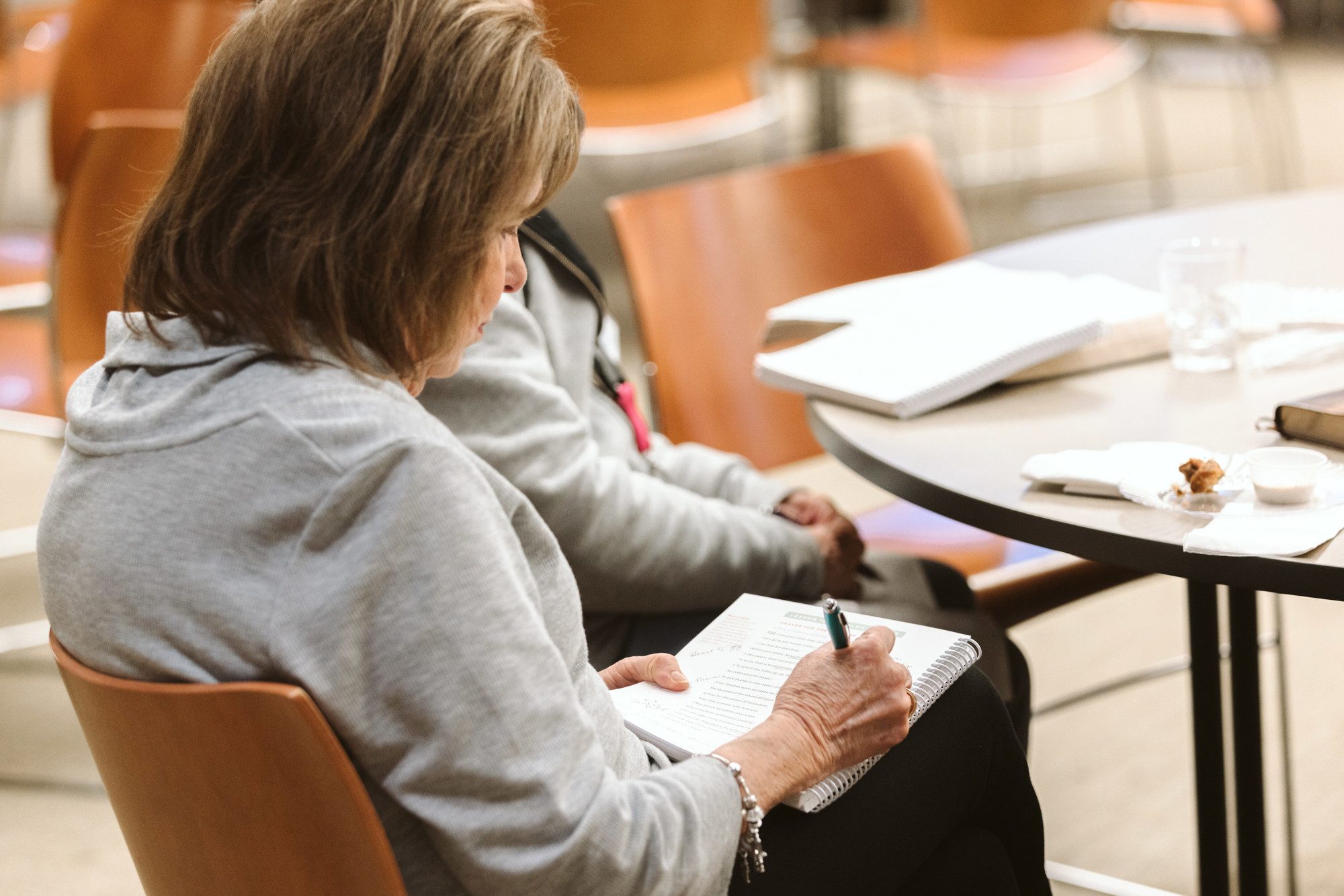 Friday
Memorize The Key Verse
Memorizing Scripture is a way to internalize it. If you know God's Word by heart, you can think about His truth often and apply it to situations you face. Throughout the week, work on memorizing the key verse and encourage others to learn it
with you.
Saturday
Review Your Week
Each week ends with a chance to reflect on how you did, how God is at work in your life, and how you can continue to grow and improve the next week. You will also be asked to evaluate whether you've practiced each of the five habits.
The Daily Journal
You can follow along in the weekly training plan through our easy-to-use Spring Training daily journal. Each year, we develop a theme that ties together the daily Scripture readings. For 2023, we're going on A Disciple's Journey for five weeks, focusing on the life and writings of Peter. Biblical readings include the Gospel of Mark, Acts 1–5, and 1–2 Peter.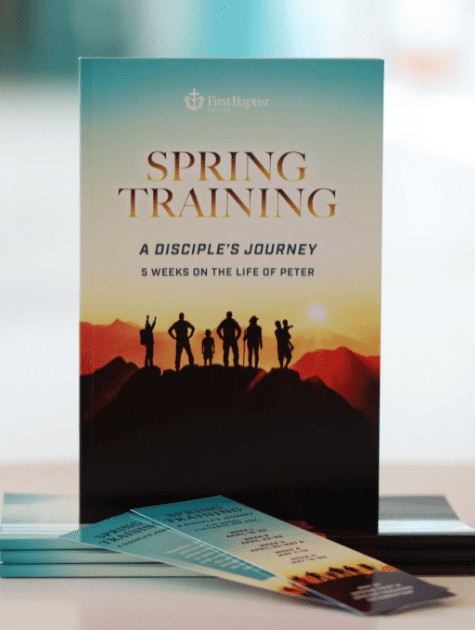 Equipping Resources
We want to help you help you get the most out of your daily time with the Lord. Here are some resources to equip you as you participate in Spring Training: A Disciple's Journey.
Weekly Podcasts
Podcasts will release each week on Mondays and Fridays. Our Monday podcast is an audio edition of content from the daily journal, so you can listen on the go. Our Friday podcast helps you reflect on key takeaways from each week's Scripture readings.
LISTEN HERE
Five Habits of a Healthy Christian iCampus Course
Our Executive Pastor Ben Lovvorn has developed a new series of video lessons that give biblical and practical guidance on each of the five habits of a healthy Christian.
WATCH HERE
Weekly Habits Checklists
Downloadable checklists to help you stay on track.
Weekly Habits Checklist (Adults)
DOWNLOAD HERE
Weekly Habits Checklist (Kids)
DOWNLOAD HERE
Connect with Us
We would love to have you join us in person for Spring Training! Find out more about our worship services here.
To keep up to date on the latest Spring Training resources, make sure you join our mailing list.