General
,
Senior Spotlight 2023
By First Dallas Staff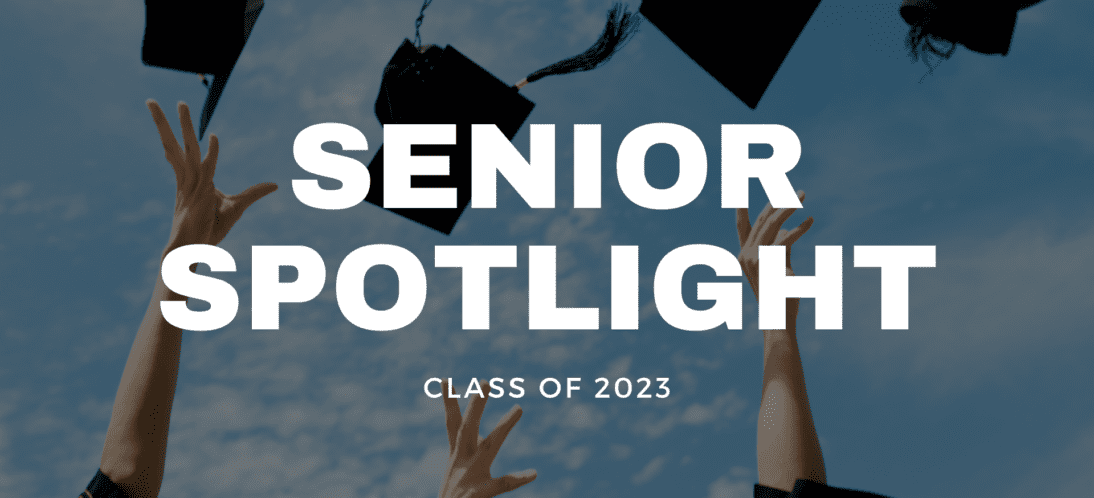 Dear Graduating Class of 2023, 
On behalf of First Baptist Dallas, I want to congratulate you on your high school graduation. We are so proud of you! It has been my honor to know you and serve as your student minister. Whether we have known each other since you were in seventh grade or we just got to know each other your senior year, please know that having the privilege of walking alongside you as you have grown in your relationship with Christ has been an absolute joy. 
As you think about the relationships you have built and the experiences you had in First Dallas Students, I want to challenge you to use them in your next chapter in life. Isaiah 30:21 says, "Your ears will hear a word behind you, 'This is the way, walk in it,' whenever you turn to the right or to the left." The Spirit will bring to your memory bible verses, small group leaders, and experiences at student events that will point you in the direction of God's will for your life. 
Finally, you are loved and you are valued by the Lord and by your church. You will do great things in the kingdom of God wherever He leads you. I am praying for you and I will always be in your corner. 
In Christ, Ryan Sadler
Meet Our Seniors!
Suzanna Archibald
High School:

Three Oaks Private School

Future Plans:

I intend to continue my education at Dallas College and earn my degree in business entrepreneurship.

Favorite Bible Verse:

Jeremiah 29:11

—

For I know the plans that I have for you, declares the Lord, plans for welfare and not for calamity to give you a future and a hope.

Most Memorable Moment:

Student

Camp 2022! I loved all the activities, even though I got sick and couldn't do most of them (haha). I loved camp because I got to create a bond with people that I might not have created outside the camp.

Funny Memory:

When Gavin was praying on a Wednesday night, Jordan Willis made a really loud noise, and everyone stopped and laughed, even Gavin.

Spiritual Growth:

This last year, I grew a lot spiritually. I learned that God never gives up and that His answers to your prayers are always in your best interest. He knows the plans He has for you, and I believe He places a desire in your heart to chase after those plans.
Abigail Carter
High School:

Homeschool

Future Plans:

Major in Computer Science 

Favorite Bible Verse:

Romans 12:12

—

Rejoicing in hope, persevering in tribulation, devoted to prayer.

Most Memorable Moment:

During the San Antonio Mission Trip, one of my friends suggested that I ask God for a word for the year. I was skeptical, but I asked God, and I saw the word hope everywhere that week. It was on a painting of our mission partner, on the back of a t-shirt, and in a song we played to wake up in the morning. It was even on a portrait a random lady at our park concert drew of me. Every time I saw the word hope, Hebrews 6:19 showed up. God had answered my prayer quite clearly.

Funny Memory:

The one year I attended Beach Camp, on Wednesday, we had a skit competition called "Wednesday Night Live," if I recall correctly. As we had been unable to swim in the ocean due to bad currents all week, one of the groups joked that it was no longer "Beach Week" but merely "Week."

Spiritual Growth:

I met people who had a strong relationship with God and saw what being on fire for God really looked like. I learned to follow Christ throughout the week, not just on Sundays. I finally realized that following Christ is a relationship.
Brant Choate
High School:

Innovation, Design and Entrepreneurship Academy

Future Plans:

Joining the Navy.

Favorite Bible Verse:

Proverbs 4

—I love the whole chapter!

Most Memorable Moment:

Dodgeball with Gavin

Funny Memory:

When Gabe broke my glasses playing dodgeball.

Spiritual Growth:

I grew spiritually at Limitless Weekend.
Lillian Felton
High School:

Home School

Future Plans:

Attend Ouachita Baptist University, majoring in Christian Ministry and Communications.

Favorite Bible Verse:

Lamentations 3:22-23

—

The Lord's lovingkindnesses indeed never cease, for His compassions never fail. They are new every morning; Great is Your faithfulness.

Most Memorable Moment:

During the Dallas Christmas Spectacular, I got to spend hours talking with other students about what God was doing in our lives. Not only was it a fun performance opportunity, but I ended up developing relationships during rehearsals that are still an integral part of my life today.

Funny Memory:

All the times I rode in Mrs. Kelley's van on the mission trip to San Diego. We never went anywhere without a karaoke session, random game, or some craziness that had all of us in stitches.

Spiritual Growth:

The community I found in FD students has deeply impacted me. Not only did I learn from many conversations with older students, but I was able to pour into younger girls as well. At camp last year, some of the junior high girls would meet each evening, and I was able to pour into them and facilitate some great conversations. Their hearts for the Lord challenged and encouraged me.

Advice to Students: You hear it all the time, but get involved! The best way to develop meaningful relationships is to go to events where you can spend time with other students who are pursuing Christ. Also, don't be afraid to do something different. Some of the most rewarding parts of my time in FD students were when I reached out to an upperclassman or a staff member to talk or when I started my prayer group. Get outside your comfort zone and see what God can do!
David Futral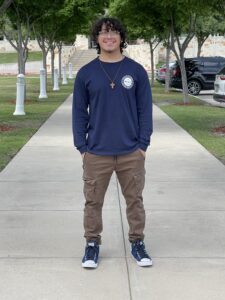 High School:

Futral Academy

Future Plans:

I'm going to Collin College to pursue a career in film production.

Favorite Bible Verse:

Psalms 37:7

—

Rest in the Lord and wait patiently for Him; Do not fret because of him who prospers in his way, Because of the man who carries out wicked schemes.

Most Memorable Moment:

My most memorable moment from being a student at First Baptist Dallas is the mission trips and camps. I'm so thankful for those moments spent with the coolest people during those trips. My favorite trip was probably the Belize mission trip.

Funny Memory:

Too many to count, but there was this one time that we did a skit competition at Beach Camp. There were four teams, and one team impersonated the leaders from FD Students. It was one of the funniest things I saw.

Spiritual Growth:

I grew closer to God from the people God placed in my life. The leaders and my friends instilled a lot of knowledge in me. From the sermons of Pastor Ryan, Jared, PJ, Daira, Thad, and many more, to the small Bible studies we'd have together as students, I've grown in knowledge of God's word.

Advice to Students:

Make friends with the right people. Be around those who are a good example and who respect others. Respect others, and you'll be respected. Do what you love and what falls in God's will. Stay steadfast in prayer and always trust God. Learn and be attentive to all the knowledge you can grab from the Word of God so that you may be ready to use it when you start your next chapter of life. Finally, love God and love people. Also, share the Gospel!
Paige Holmgren
High School:

Highland Park High School

Future Plans:

Attending Baylor University with plans to major in Finance!

Favorite Bible Verse:

2 Corinthians 4:18

—

While we look not at the things which are seen, but at the things which are not seen; for the things which are seen are temporal, but the things which are not seen are eternal.

Most Memorable Moment:

Becoming best friends with Suzanna at Glorieta! I have known Suzanna for a long time, but we became best friends after becoming roommates. God works in such amazing ways!

Funny Memory:

When I was in middle school, I had the funniest youth pastor! Gabe Salazar! He would always crack jokes and keep us entertained.

Spiritual Growth:

I grew spiritually during my time at FD Students because I was surrounded by Godly people and Godly friends who encouraged me in my faith and held me accountable to spend time in the Word, in prayer, and make decisions that would glorify God.

Advice to Students:

Prioritize your time with God no matter how busy you are, spend time with Him, and do not make any excuses! Go to all the events at FD Students because you will make great friends and have a lot of fun.
Alexander Kanaday
High School:

Homeschooled

Future Plans:

Get a job and go to seminary.

Favorite Bible Verse:

1 Kings 2:2-3

—

I am going the way of all the earth. Be strong, therefore, and show yourself a man. Keep the charge of the Lord your God, to walk in His ways, to keep His statutes, His commandments, His ordinances, and His testimonies, according to what is written in the Law of Moses, that you may succeed in all that you do and wherever you turn.

Most Memorable Moment:

I'll never forget hanging out with my friends on the mission trip to San Antonio.

Funny Memory:

At church camp, the same year as the San Antonio trip, we went to the cabin. I got my bags, chose my bed, set my bags down, laid down on the bed after the long trip, and saw GatoPato drawn on the top bunk. A drawing of a duck-cat hybrid became the greatest inside joke of the entire trip.

Spiritual Growth:

I became better at sharing the gospel, finally had my believer's baptism, and found great friends.

Advice to Students:

Keep fighting for Christ, keep running the race, and keep trying. A cause worth fighting for is not decided based on it's probability of success but based on it's foundation and alignment with Christ. Furthermore, it's better to try as hard as you can than to do nothing even if the chances of success are incredibly low, because doing nothing guarantees failure. Remember Proverbs 24:16.
Laurie Anne La Due
High School:

La Due Homeschool

Future Plans:

Studying for a Vocal Performance Major

Favorite Bible Verse:

Philippians 2:3

—

Do nothing from selfishness or empty conceit, but with humility of mind regard one another as more important than yourselves.

Most Memorable Moment:

I went on the 2021 Student Mission Trip to San Antonio. It was my first mission trip. On the last night, my best friend and I spent time together discussing the amazing things that happened on the trip and various spiritual topics. We both prayed with each other for a long time, and it was a very meaningful and memorable time for me. It was a great way to end the trip.

Funny Memory:

I don't remember the funniest moment, but something that's always been very fun for me is Student Choir. I have been at this church for five years, and I would just live in the choir the whole time. I would really miss it when we didn't have a choir in the summer. It has been very fun for me, and I have learned and done things that will stay with me for the rest of my life. It has shaped my future of wanting to become a Christian singer. The choir has been a place where I have developed friendships and where I have grown in my relationship with Christ. It has been a really fun place to be. And the time that I have had in the ensemble has been really great for me. It was not something I expected in the beginning, but I am now so glad that I did not go without it. It was something I loved doing very much. These things have always meant so much to me.

Spiritual Growth:

The importance of studying the Bible daily and being bold to witness Christ.

Advice to Students:

No matter what happens in your life, never ever abandon the faith.  God will always be faithful to you, and you should always be faithful to Him and be His humble servant.
Faith Lajuwomi
High School:

Homeschooled through Abeka Academy

Future Plans:

Recently, God has been calling me to pursue worship. Or something like that. 

Favorite Bible Verse:

Psalm 56:3

—

When I am afraid, I will put my trust in You.

Most Memorable Moment:

One memorable moment with FDS was at Camp last year. It was my first time going, and it was fun and motivating. At one point, I became very discouraged. But as I walked around the camp, God showed me through His creation that He was with me. Through my experience at camp, I was motivated to trust God, worship and praise Him, and write down my testimony. And I made friends with a lot of the seventh-grade girls. Exploring the campgrounds was fun too. Another memorable moment was the Mission Trip to San Diego last year. First time in California. I wasn't impressed. But I saw how much the people there needed Jesus, and I am glad that we went to show them the gospel. I also found that I have a passion to serve. Singing at the Haitian church was amazing. Their church reminded me of my parents' Nigerian church. I hate beaches, but the beach we went to was a good one.

Funny Memory:

Once, I gave an impromptu speech about a doorknob.

Spiritual Growth:

During my time at FD Students, I grew spiritually in many ways. First of all, I grew in a renewed faith and love for Christ. Through all the things I have participated in as FD Student, I have seen the work of God in my life. Secondly, I discovered that people are important. In 2020, I may have been excited about the lockdowns. But as the months dragged on, I realized that being alone all the time was not something I really wanted. People need people, and that is why the church exists. To bring the people of Christ together so they might not be discouraged. Third, I learned that church events such as Camp truly do change lives. Before, I didn't think it was a big deal, but after experiencing it, I knew that these events were more than just having fun. It was purposefully done to help students know Jesus. Lastly, I found people who actually love and care for others. When I was in fifth grade, my old friends decided that I was not worth being friends with anymore. I was very alone when we started attending First Dallas in my sixth-grade year. During my middle school years, I refused to have any kind of friendship with anyone at church and even in my AHG troop and volleyball team. I was scared that if I made any friends, I would lose them once they found something in me that they didn't like. But I didn't realize that the new people around me were different. They were not perfect, but they showed the love of God wherever they went. Since ninth grade, I have tried to stop pushing people away, and FD Students were a big part of sparking that.

Advice to Students:

One of my favorite quotes is, "Be always sure you're right-then GO AHEAD" by Davy Crockett. Don't make guesses in life. Ensure that what you know is right, and you will be confident when problems arise. Don't be a slacker! Work hard in everything. Hard work always pays off in the end. Never do anything for the praise of men. Let everything in your life be to the glory of God.
Levi Perkins
High School:

Cooper Christian Academy

Future Plans:

Traveling around the country, then on to A&M.

Favorite Bible Verse:

Psalms 2:8-11

—

Ask of Me, and I will surely give the nations as Your inheritance, And the very ends of the earth as Your possession. You shall break them with a rod of iron; You shall shatter them like earthenware. Now therefore, O kings, show discernment; Take warning, O judges of the earth. Worship the Lord with reverence and rejoice with trembling.

Most Memorable Moment:

Camp one year can't remember the exact one, but I was in a cabin with Caden Bunch and William Horton. I grew spirituality quite a bit.

Funny Memory:

Medieval Times—just the whole event!

Spiritual Growth:

I grew with grace and knowledge with the teaching and the teachers that helped me through the years.
Andrew Perryman
High School:

Trinity Valley School

Future Plans:

I plan on studying engineering, most likely at Texas A&M.

Favorite Bible Verse:

Psalms 91:13-15

—

You will tread upon the lion and cobra, The young lion and the serpent you will trample down. Because he has loved Me, therefore I will deliver him; I will set him securely on high because he has known My name. He will call upon Me, and I will answer him; I will be with him in trouble; I will rescue him and honor him.

Most Memorable Moment:

When the two missionaries to Africa came and spoke to us.

Funny Memory:

Receiving extremely funny advice from a small group member.
Andrew Tucker
High School:

Richardson High School

Future Plans:

I'll be going to college.

Favorite Bible Verse:

Proverbs 3:5-6

—

Trust in the Lord with all your heart and do not lean on your own understanding. In all your ways, acknowledge Him, And He will make your paths straight.

Most Memorable Moment:

Student Camp!

Funny Memory:

Videos that the leaders made.
Jordan Willis
High School:

Lake Highlands High School

Future Plans:

Attend Liberty University to pursue B.S. in Family and Consumer Sciences – Event Planning

Favorite Bible Verse:

Luke 10:2

7—

And he answered, "You shall love the Lord your God with all your heart, and with all your soul, and with all your strength, and with all your mind, and your neighbor as yourself."

Most Memorable Moment:

Belize Mission Trip and growing up with one of my best friends, Suzanna.

Funny Memory:

Costume Day in eighth grade.

Spiritual Growth:

Along with my parent's guidance, I learned to stand firm on my convictions even if I had to stand alone!