Christmas Devotional | 2021 - Day 8
The Humble Miracle
By Jay Sedwick
"And she gave birth to her firstborn son; and she wrapped Him in cloths, and laid Him in a manger, because there was no room for them in the inn." — Luke 2:7

Read the full passage: Luke 2:1-7
I don't know about you, but I often find it interesting that our culture has somewhat limited the celebration and recognition of Jesus's birth to the month of December. We sing songs about the cross of Christ, His death, and resurrection year-round (as we should). Yet, we do not classify those songs as "Easter songs." On the other hand, almost any song that mentions Jesus' birth is classified as a Christmas song, and to top it all off, people often get annoyed at anyone who listens to Christmas music outside of the month of December. Now don't get me wrong, I love the Christmas season and think it is amazing that we take time every year to specifically recognize and celebrate Jesus' birth. I would argue, though, that the birth of Jesus ought to be celebrated and recognized year-round, leading us into awesome and meaningful worship.
Luke 2:1-7 gives us the exact events surrounding Christ's birth. Luke 2:1-5 gives us historical background as to why Joseph and Mary traveled to Bethlehem, the prophesied birthplace of the Messiah (Micah 5:2). Luke 2:4 reveals the fulfillment of the prophesied lineage of Jesus through David (Isaiah 11:1). Then, Luke 2:6-7 brings a shift: the main event. While in Bethlehem, it became time for Mary to give birth, and the first eight words of Luke 2:7 would change the course of human history. "And she gave birth to her firstborn son…" There, in the little, unassuming town of Bethlehem, wrapped in cloths and lying in a feeding trough, was the Creator of the universe.
In John 1, Scripture tells us that Jesus was in the beginning with God and was God. Yet by His own will, Jesus chose to take on human flesh in the ultimate act of humility: the miracle of the incarnation. The Son of God, while maintaining His status as fully God, temporarily gave up the comforts and privileges of heaven in order to simultaneously become fully man. He submitted Himself to the Father's will and was obedient to the point of the most excruciating death on the Cross. Why would God choose to become a lowly human being, choose to serve lowly human beings, and choose to die a humiliating and torturous death for lowly human beings? Because John 3:16 tells us, "For God so loved the world, that He gave His only Son, so that everyone who believes in Him will not perish, but have eternal life."
Jesus Christ's death and resurrection for the forgiveness of our sins does not happen without the miracle of the incarnation. We need to remember during this time, and all times, that Jesus Christ chose radical humility so that we could be with Him forever. He came to earth in the most miraculous act of humility in history, to pay the debt we deserved to pay but could not. Thank you, Jesus, for your love for us.
---
Questions for Thought
When you think of Jesus birth, do you think of a helpless baby in a manger, or do you recognize baby Jesus as the King of kings and Lord of lords?
Jesus gives us the ultimate example of humility in the incarnation. Are you following your Savior's example in your daily life?
---
Daily Challenge
Don't let your celebration of Jesus Christ's birth end on December 26. Celebrate year-round the loving miracle of the incarnation, remembering its significance for the fate of our eternity.
---
Author Bio
Jay Sedwick
College & Career Minister
Jay grew up at First Baptist Dallas and his family has been attending our church for over 100 years. He is a fourth-generation church member at First Dallas. Jay was a walk-on kicker for Baylor's football team and had an incredible influence on those around him. Jay was active in praying for and sharing his faith with members of the team and the coaching staff. He was voted a team captain his senior year. Jay just started his ThM degree at Dallas Theological Seminary.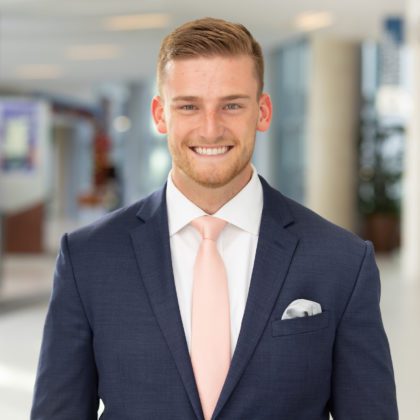 ---
---
Devotional Contents:
Christmas Devotional | 2021 - Day 8