Women's Devotional | Letters to the Generations - Day 10
Letter to My Younger Self
By Patty Lovvorn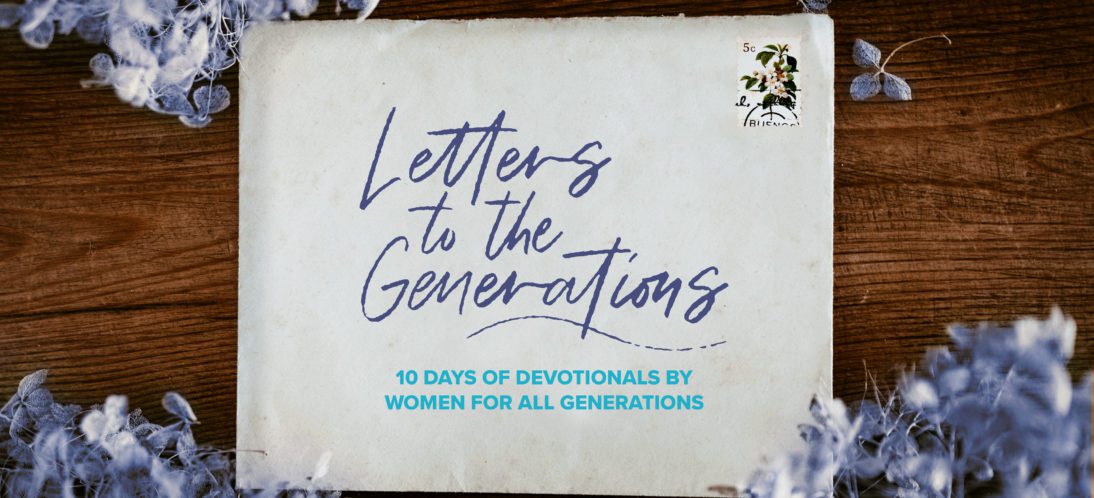 "But the fruit of the Spirit is love, joy, peace, patience, kindness, goodness, faithfulness, gentleness, self-control; against such things there is no law." ~ Galatians 5:22-23
A Letter to My Younger Self,
The Lord has taught me many things, especially as a mom. My husband Mark and I raised three boys and a girl, who are now grown and married. I have learned that a parent's job is never done! The responsibilities just change over time. Being a parent is one of the greatest blessings God has ever given me.
As a young mom, I remember putting lots of pressure and high expectations on myself. Young women today have pressures that come from many different sources, including social media. But look past all the glitz and glamour and unattainable perfection of social media to the realities of life and parenting. If I could tell my younger self one thing, I would say that parenting, or anything for that matter, cannot be done in your own power. It was only through going to the Lord, the source of all power and grace, that I could be the woman and mom that He wanted me to be. I would tell my younger self, "Do your best, and depend on God's grace for the rest."
As I was raising young children, I often felt like this: There is nothing to pack for lunch, and I have broken up another fight between siblings. The schedule for the week looks impossible, we are late for school once again and I feel exhausted and unappreciated. The house is a mess, there is no time to clean it, and the laundry is a mile high once again!
In the midst of endless chaos, it is easy to lose sight of what we are working for and building toward. The ones we love most can cause us frustration and irritation. We often ask, "Is this endless catalog of unattractive duties working toward any meaning and purpose?" So what would I say to this struggling young mom who thought she would never get it together?
As I have gotten older, I have come to recognize that everything I need to know is in Scripture, and every issue of life is a spiritual issue. I would also tell my younger self to ALWAYS be guided by God's powerful and very personal word. And Galatians 5:22-23 is a great place to start! "But the fruit of the Spirit is love, joy, peace, patience, kindness, goodness, faithfulness, gentleness, self-control." When you focus on living out these God-given qualities before others and apply them to your parenting, career, and daily life, when you ask the Holy Spirit to fill you and guide you through your days, you can trust that the Lord will be at work. As you bear the fruit of the Spirit, your life will reflect Christ in all you do.
I Peter 4:8 says, "Above all, love each other deeply because love covers a multitude of sins." Ask God to cover your home with the overflowing love so that everyone who enters can feel the overwhelming love of Christ.
I would tell my younger self to always show love and respect for my husband and to ask God's help in modeling a strong Christian marriage before them. I would speak with high regard for their father and use kind and gracious words when speaking to him. The words of Psalm 19:14 should be a banner over your home: "Let the words of my mouth and the meditations of my heart be acceptable in your sight, O Lord, my strength and my Redeemer."
You will never regret a moment spent in prayer. Pray diligently for your children, for their salvation, and for God's will for the future. Pray for His wisdom to guide you, and know that your prayers will have a profound impact on your family and on your life as well. The knowledge that you prayed for your children will be an incredible treasure to them. 1 Thessalonians 5:16-18 says, "Rejoice always, pray without ceasing, give thanks in all circumstances, for this is God's will for you in Christ Jesus."
I would tell my younger self to love each child for his or her uniqueness. Entrust your children to God and pray that He will use each child's gifts and abilities for His glory. I would advise you to love what your children love. I would say to show up and show interest in the activities of your children! The investment of time in the things your children love will have a great return. You may spend countless hours at sporting events, dance recitals, and school programs. Attending their events is a place where the sacrifice of your time and energy is worth it.
Even when it is not easy, and you feel that you have had enough, God calls on us to be peaceful and patient. And the only way to experience that is by seeking God's peace that passes all understanding. Live for Him in the midst of everyday circumstances when no one notices. Be faithful in the little things, doing all you do for the glory of God.
Teach your children to love and value God's word. Let them know that when they hold the Bible, they hold a treasure in their hands. Teach them that God's word is absolutely true. You have the privilege of imprinting His word on the hearts of your children. You can use moments throughout the day to guide them in their faith and to create a love for spending time in God's word.
And be in a great church and an excellent Bible study where YOU are constantly strengthened by His word and His people! Surround yourself with Christian role models and friends. Do not hesitate to ask for help and advice. Plant yourself in your church and serve the Lord faithfully there. Invest your time in seeking and serving Him. The spiritual blessing will be great.
Let your home be constantly characterized by forgiveness and love. Always be ready to admit when you were wrong and say you are sorry when you fail. We all do! Ephesians 4:32 reminds us to be kind and compassionate to one another, forgiving one another, just as Christ forgave you.
The last word of advice I would give my younger self is to make Lord Jesus Christ the center of your home. Matthew 6:33 tells us, "Seek first His kingdom, the Kingdom of God and His righteousness, and all these things will be added unto you." Make Him your number one priority.
Love, Patty Lovvorn
---
Questions for Thought
What changes do you need to make for your home to reflect the fruit of the Spirit?

How can you be a spiritual encouragement to your children or friends? What time can you use during the day to encourage them in their faith?
---
Daily Challenge
Write down the fruits of the Spirit found in Galatians 5:22-23. Make a list of the fruits you bear and the fruits you struggle to bear. Pick one word from the list and write it somewhere you will see it every day. Whenever you see that note, pray and ask the Lord to help you bear that fruit.
---
Author Bio
Patty Lovvorn
Patty Lovvorn has been married to her husband, Mark, for 43 years. She is a mom of four married children and a grandmother of nine, with two more granddaughters due this spring. Patty is actively involved in many ministries of First Baptist Dallas. She teaches a Women's Sunday School class, serves on the Development Team for Women's Ministries, and coordinates the Wednesday Night Women's Bible Study. Patty loves studying and teaching God's Word to women of all ages. Patty enjoys serving through various ministries, including First Baptist Academy, Dallas Baptist University, and Baylor University's School of Nursing. Patty's greatest joy comes from spending time with family and friends.
---
---
Devotional Contents:
Women's Devotional | Letters to the Generations - Day 10