Women's Devotional | Letters to the Generations - Day 3
Letter from a Sister
By Diana Morgan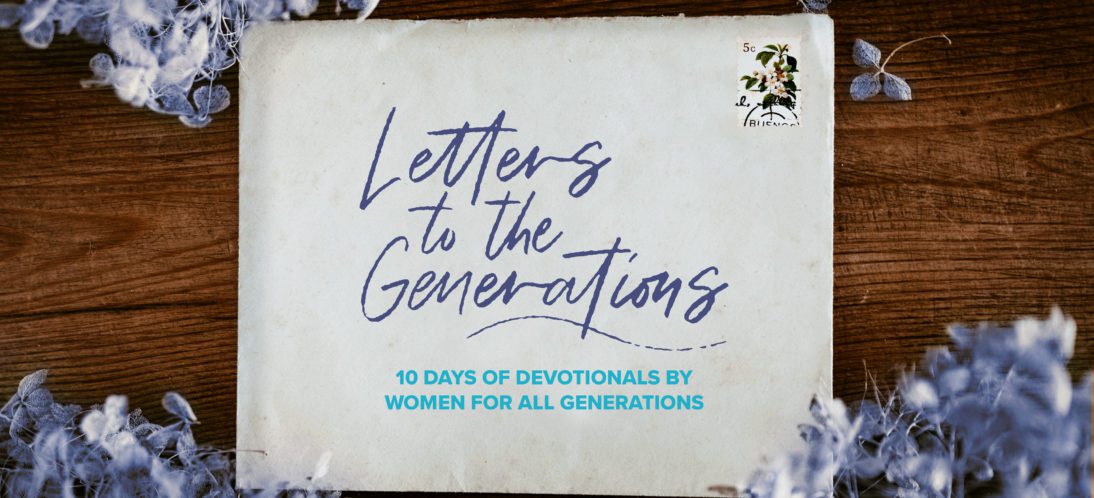 Consider it all joy, my brethren, when you encounter various trials, knowing that the testing of your faith produces endurance. ~ James 1:2-3
Dear Sister,
Did you know that God gave us sisters to be with us in the hard times of life and to give help when needed? He uses them to teach us how to resolve conflict, handle communication, and how to put the needs of others above our own. It's a unique gift that God has given us as a support system. This doesn't mean you get along with your sister all the time or that you even have a great relationship with them, but it does mean there are things He will do through that relationship, regardless of how broken or wonderful it may be.
My oldest sister is the definition of order: logical, organized, neat, a planner, and bossy. I'm in the middle: chaotic. Growing up, if there was a hard path, I chose it, and if there was a wrong choice, I usually made it. We are so different, yet we respect one another greatly. She was with me when I was a teenager and found out I was pregnant. She was with me when I had to tell our parents and cause them pain. She was with me in the delivery room when my daughter was born almost 36 years ago. She's been with me through every choice I've made, good or bad. Our children grew up together, closer than most cousins. We've shopped, traveled, laughed, cried, and argued together. We've even grown apart at times due to life circumstances. And as our children become adults, life gets harder. She found out firsthand that adult children can break your heart. And it broke my heart to watch her suffer. But in all of these situations, God revealed His faithfulness and mercy. And no matter what season of life we have been in, we always knew we could pick up the phone, and the other would answer—no questions asked!
On November 29, 2022, I received a terrifying call from one of my nephews. My sister had been rushed by ambulance to ICU with a BP of 54/29, and all her organs were shutting down. I had just seen her four days before Thanksgiving, and she was fine. But at this moment, the world lost all color, I couldn't breathe, and I immediately began to pray in desperation. As I was running to my car, something about "counting it all joy" and "rejoicing in our sufferings because it will produce hope" popped into my head. I immediately resisted, thinking there was no way to be joyful. But during the two hours, I prayed on my drive, something happened. I completely handed it to God and laid it at His feet. I couldn't find joy at that moment, but I understood that joy is a fruit of the Spirit. Joy is supernatural; it's all God! I started trying to understand how to find comfort in God and realized I just had to ask. It's interesting how God is there to meet us in desperate times if we open our hearts. God showed me His plan for joy in a joyless time and how He shows up to meet us in our greatest time of need.
As I sat with my sister at the hospital on that first day, I remembered those verses that had been repeating in my mind as I drove. James 1:2-3 says, "Count it all joy, my brethren, when you encounter various trials, knowing that the testing of your faith produces endurance." And Romans 5:3-4 says, "Not only this, but we also exult in our tribulations, knowing that tribulation brings about perseverance; and perseverance, proven character; and proven character, hope."
I knew God had pressed these verses upon my heart at exactly the right time. I started thinking about our relationship as sisters and how easy it is to love and support one another when everything is going well, but James and Paul knew we would need these reminders when things were quite the opposite.
My sister has a long road of recovery ahead, but she's still here, which is an answer to prayer. And if you think prayer doesn't work, she is living proof that it does! There were so many people all over who were praying for her. The prognosis was grim, yet she overcame every obstacle the doctors said she wouldn't. Don't be afraid to enlist those prayer warriors over your suffering. And always be there for your sisters.
Love, Diana Morgan
---
Questions for Thought
God is so good, even when our circumstances seem tragic, insurmountable, and joyless. Do you seek Him first when your circumstances are bleak or seem hopeless?
God is good at being God. Stop trying to do his job for Him. He's got this, so free yourself from that responsibility of trying to "fix things." Do you trust God to direct your path?
---
Daily Challenge
My challenge to you today is to find time to abide with God every day, no matter how busy you are. It's the most important relationship you will ever have. He is where you will find peace and comfort in all things. Lean on your brothers and sisters, ask for help, cry out to God, and thank Him even when you don't know how you can be thankful. Our lives are more fulfilled if we long for God, and as He meets us in our time of need and walks through everyday life with us, we will find true joy and light amid the chaos.
---
Author Bio
Diana Morgan
Diana Morgan is a member of First Baptist Dallas and serves as a Wednesday night Women's Bible Study Facilitator. She is married to Jon and is mom to Stephanie and Trevor and bonus mom to Anna and Zach. She has two granddaughters and another grandbaby on the way. She works full-time as the Director of Facilities for a large dental company in Texas and Oklahoma. In her free time, she loves to read, travel, and spend time with the grands.
---
---
Devotional Contents:
Women's Devotional | Letters to the Generations - Day 3