Women's Devotional | Letters to the Generations - Day 8
Letter from a Mentor
By Andie Garcia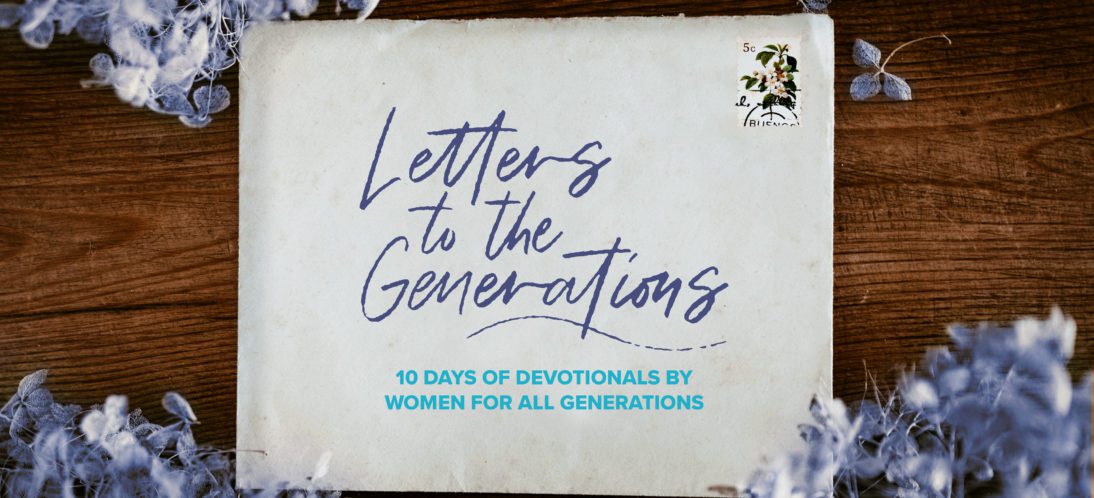 "But now, thus says the Lord, your Creator, O Jacob, and He who formed you, O Israel, 'Do not fear, for I have redeemed you; I have called you by name; you are Mine! When you pass through the waters, I will be with you; and through the rivers, they will not overflow you. When you walk through the fire, you will not be scorched, nor will the flame burn you. For I am the Lord your God, the Holy One of Israel, your Savior.'" ~ Isaiah 43:1-3
Hello young woman,
The Lord has placed you in my heart. And He placed this Scripture on my heart to share with you as an encouragement for when you encounter difficult days, that He will be with you always.
Isaiah 43:1-3 says, "But now, thus says the Lord, your Creator, O Jacob, and He who formed you, O Israel, 'Do not fear, for I have redeemed you; I have called you by name; you are Mine! When you pass through the waters, I will be with you; and through the rivers, they will not overflow you. When you walk through the fire, you will not be scorched, nor will the flame burn you. For I am the Lord your God, the Holy One of Israel, your Savior.'"
I can't even begin to count the times when my first reaction over the years has been fear and worry, especially as a mother of three. This is my first reaction–even though I've been a Christian for 42 years–until I gather myself and remind myself of His words, "Fear not." Every time I look back on my life, either in the moment or after the storm, I see God has been by my side the whole time, and He carried me through some of the toughest times in my life. In some of those moments, all I could see was the struggles, and I would cry out to the Lord, "How long, Lord? How long will this last?!"
My journey as a mother to a special-needs daughter has been incredible. But we have had many difficult times and sleepless nights with her health, from finding the right doctors, diagnoses, surgeries, and the financial struggle to cover it all. But God has been with me and strengthened me on this journey, teaching me that His timing is perfect and my story is for His glory. Every time a new situation arises, when I would typically worry, my response now is to stop and pray. I remind myself that this new fire will not consume me, even when the fire is blazing, and the smoke makes it hard to see and breathe.
On a morning not too long ago, my husband and I were up early, getting ready. He knew it would be a hard day for me because I was tired. Our daughter's health was declining, and we had an appointment at the hospital. She was in constant pain; she could barely walk, and we had no wheelchair to get her around in. My husband prayed for us before we had to leave the house that morning.
We couldn't find a close parking spot when we arrived at the hospital parking garage, so we began the long, slow walk. As we made our way, we got off the garage elevator and started our walk down the sky bridge to the hospital. Then, out of nowhere, a volunteer came up from behind us, pushing an empty wheelchair! He asked us if we needed help, and I said, "Yes, please!" He helped my daughter into the chair, and we were on our way. We made it to the hospital check-in, down the halls to the elevators to get to the 6th-floor check-in, then down the next set of halls to the waiting area where our appointment was. As we sat there, my daughter said to me, "Isn't it funny how that guy came at just the right time?" With tears in my eyes and a shaky voice, I replied, "That was God our Provider showing up just when we needed Him most!"
I tell you this story and advice to encourage you to know that God hears our prayers and He is with you always. Sometimes His presence and answers are obvious, but sometimes they are so small we might miss them. Look for God in the smallest details of your daily life. I hope and pray that you will have a close encounter with Him as you walk through these days ahead. May you continue to grow as you seek His truth in your life.
Blessings to you, Andie Garcia
---
Questions for Thought
Are you trying to take control of the fires in your life, or are you letting God take control of a stressful situation and letting Him guide you?

Do you trust in His promises to always be there? If not, what keeps you from believing those promises?
---
Daily Challenge
Ask God to open your eyes to see Him working in your life, then be on the lookout. At the end of the day, spend time in prayer and praise, writing about where you saw Him.
---
Author Bio
Andie Garcia
Andie is a wife, mother, and grandmother. She's a full-time homemaker, so she can care for her special-needs daughter and for her grandchildren when needed. She has been a member at First Dallas for almost 10 years and loves serving in Sunday School, Kid's Cove, WBS on Tuesdays, and as a member of the Women's Ministry Development Team. She enjoys having morning coffee at the table with her husband of 31 years, Mike, as they discuss what new things they've learned from reading the chronological Bible, and they enjoy going on nature walks to birdwatch.
---
---
Devotional Contents:
Women's Devotional | Letters to the Generations - Day 8