Men's Devotional | 2022 - Day 15
Baby Steps
By Yujin Han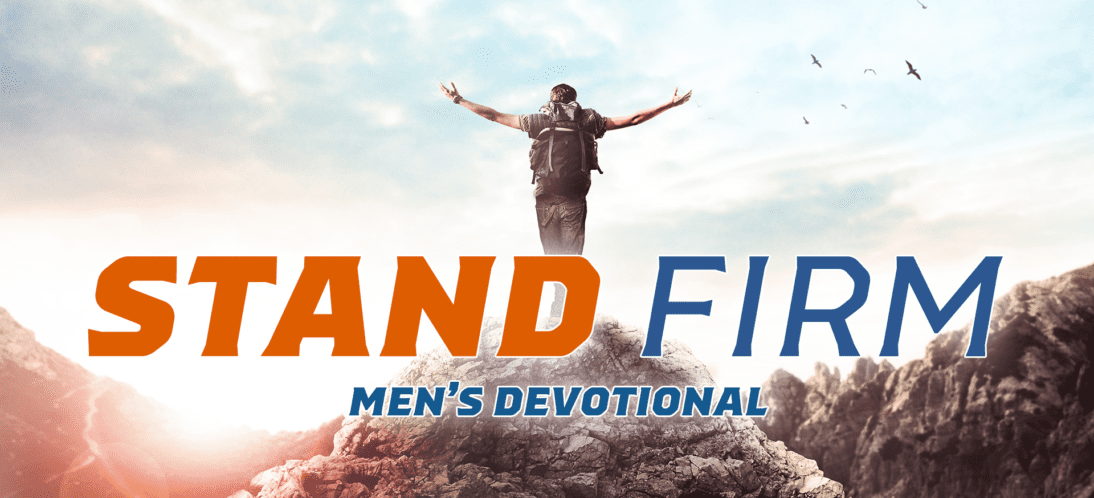 "But I say, walk by the Spirit, and you will not carry out the desire of the flesh."

Galatians 5:16
I grew up in a moral home, even though it was not Christian. There were no drugs, drinking, promiscuity, or even profanity. My parents worked hard, and my sister and I studied hard. Most of my upbringing involved growing up in a middle-class family. For the first time, after I became a Christian while still a teenager, I began to understand and explore sinfulness in all its various forms. One might even say that I became more sinful after choosing to become a Christian. But I also hated it more.
I tried to stop being sinful. I tried to resist the temptation to experiment with the illicit and immoral. Yet, I felt like the more I tried not to sin the more enticing sin became to me. Paul may have had a similar struggle in Romans 7:7-25. My moral failures even caused me to question the genuineness of my faith.
I read the autobiography of St. Augustine, who wrote, "Lord, command what You will, and do what you command in me." He felt so helpless to escape his sinfulness and prayed that God would do in him the very obedience that He required of him. I also prayed this prayer.
To this day, I have not attained complete freedom from the sins of my youth; however, God has enabled me to make great progress. In a nutshell, the following are a few things that I have learned throughout the years.
First, it is more effective to pursue Christ than to pursue how to stop sinning. I followed my annual Bible reading plan daily, memorized the Navigators Topical Memory System, and discussed the application of the Bible via a Zoom discipleship group. These disciplines, along with daily prayers, have helped me the most in my progress in holiness. Galatians 5:16 does not promise to gratify the desires of the flesh by trying hard to stop sinning. If we walk by the Spirit, then we will not gratify the desires of flesh. If we pursue God through His Word and prayer, the Spirit will transform us to desire the flesh less and Christ more. Romans 13:14 teaches, "But put on the Lord Jesus Christ, and make no provision for the flesh in regard to its lusts." We must prioritize knowing, loving, and following Christ. As we do so, God promises to take care of the enticement of sin so that we will no longer give in to it.
Secondly, physical exercise can help spiritual progress. One of the best exercises a person can do is brisk walking. God has created us to walk, not to sit around all day. When you combine this with good Christian music, like Contemporary Christian on Pandora, you have a powerful combination of physical exercise and spiritual worship. In 1 Corinthians 9:27, Paul said "But I discipline my body and make it my slave, so that, after I have preached to others, I myself will not be disqualified." He wrote this in the context of athletic training, whether running or boxing, or physical exercise. I believe he meant this instruction to be more than a metaphor for spiritual exercise. I can testify that my regular physical exercise has been a great help to my moral and spiritual growth.
Finally, always stay humble and thank God for His grace. Perhaps the two worst kings of Israel were King Ahab of Israel and King Manasseh of Judah. They did more than any other king to cause Israel to rebel against God. However, they experienced incredible forgiveness by God by humbling themselves before Him, referenced in 2 Kings 21:25-29 and 2 Chronicles 33:9-13. These examples teach us endurance, encourage us, and give us hope. Even though I know God has helped me make significant progress in my moral and spiritual walk with Him, I still sin and even return to the sins of my youth. But I remember how God forgave very sinful kings who humbled themselves, and I know that He will not despise a broken and contrite heart like in Psalm 51:17. When Paul was tested by moral compromise, he found hope in God's provision in Christ and declared, "Thanks be to God through Jesus Christ our Lord!" in Romans 7:25. Spiritual pride may be the most dangerous of all sins. It is best to remain humble as described in 1 Peter 5:5-6.
I've titled this post "Baby Steps" because I did not learn these truths all at once. I believe that God led me to understand these things through the thousands of baby steps I have taken over many years of struggles, failures, and successes. May God grant you His mercy and grace in your spiritual journey!
---
Author Bio
Yujin Han
Yujin Han teaches the Young Married Sunday School Class, Flourish, at First Baptist Dallas. He earned a ThM from Dallas Theological Seminary and now works as a Martial Arts instructor and Real Estate Investor. He is married to his wife Chi, and they have a thirteen-year-old daughter, Sophia.
---
---
Devotional Contents:
Men's Devotional | 2022 - Day 15