Men's Devotional | 2022 - Day 12
He Does Not Budge
By Preston Titterington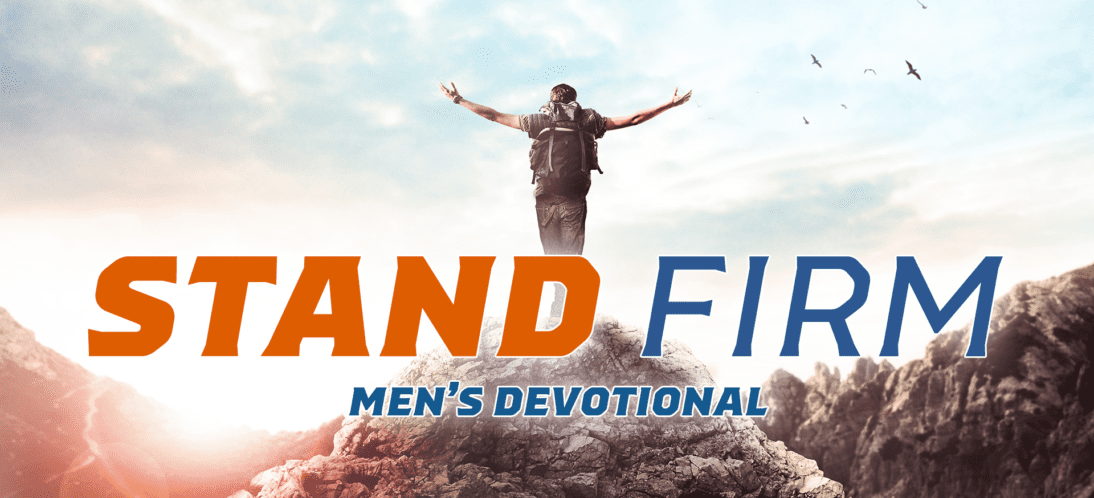 "Not that I have already obtained it or have already become perfect, but I press on so that I may lay hold of that for which also I was laid hold of by Christ Jesus. Brethren, I do not regard myself as having laid hold of it yet; but one thing I do: forgetting what lies behind and reaching forward to what lies ahead, I press on toward the goal for the prize of the upward call of God in Christ Jesus. Let us therefore, as many as are perfect, have this attitude; and if in anything you have a different attitude, God will reveal that also to you."

Philippians 3:12–15
T hroughout our life we experience loss, tragedy, stress, and grief. Even though these situations are inevitable, it is hard to stay focused. It is difficult to keep your eye on the prize, not letting the enemy get you down or discouraged. As a result, here are some ways that God has inspired me to stand firm and find victory through Christ.
When I am down, I have learned that reciting my favorite verses in the Bible helps me stand firm. Philippians 3:12-15 says, "Not that I have already obtained it or have already become perfect, but I press on so that I may lay hold of that for which also I was laid hold of by Christ Jesus. Brethren, I do not regard myself as having laid hold of it yet; but one thing I do: forgetting what lies behind and reaching forward to what lies ahead, I press on toward the goal for the prize of the upward call of God in Christ Jesus. Let us therefore, as many as are perfect, have this attitude; and if in anything you have a different attitude, God will reveal that also to you." Philippians reminds me that the ultimate prize ahead is in heaven. Fretting and being anxious in this world can be an indicator in my life that I lack faithfulness in God's Sovereignty and wisdom.
While many stories come to mind when I think about how I experienced triumph and victory through hard times, there is one in particular that I'd like to share. Five years ago, a despondent man broke into a construction site after-hours, even though he was unassociated with the project, climbed up high, and leapt off from one of our cranes. I know there are lines of work that deal with the dead, but I don't think anyone looks forward to seeing bodies.
Our company had gotten us a counselor to visit with. I talked with the counselor about the Gospel and the hope that the repentance and faith in Jesus can give. It struck her, and it was she who thanked me and left the session crying. For the remainder of the job, there were rumors of the incident. People constantly talked about the who, what, and why it happened. Nobody can read someone's heart, but the Lord was opening all these conversations about life and death. Naturally, this led to theological discussions and opportunities to share the Gospel. I had shared my faith before, but that was the beginning of a new phase. It suddenly seemed like witnessing opportunities were landing in front of me.
Standing firm is a daily battle. Just like we find it difficult to pick ourselves up, Jesus Christ Himself experienced this too. I am always reminded by what was accomplished during Jesus' ministry at Calvary.
I still have not forgotten about one of the best analogies I have ever heard preached. Imagine yourself at the gym doing weights right next to a world-class lifter. You start with a bar with two plates totaling 135lbs. You are both okay. Feeling strong, you add a couple more weights, and suddenly you start breaking into a sweat. Naturally, that makes you look over at the bodybuilder. He has not flinched. But you hold it there, and then add a couple more plates. Now, your knees begin to wobble. Before the additional weights are even added, you collapse. Still, the world-class lifter has not budged.
Similarly, sin and temptation were heaped infinitely on top of Jesus and yet, He stood firm. Jesus never budged. Not even a little bit. His example is the reason I try to stand firm through tragedy, stress, and grief. Jesus never waivered. He is the other person that we keep looking over at and want to keep up with. He is victorious.
---
Author Bio
Preston Titterington
A native of Denver, Colorado, and a graduate of Colorado State, Preston Titterington's career in construction has taken him out of the Rockies and to the east and west coasts before landing in Dallas, Texas. In the summer of 2014, Preston met his wife, Terrah, and they said "I do" in 2016 at First Baptist Dallas's Slaughter Chapel. He loves the outdoors and spends his free time fishing, hunting, kayaking, eating good food, being with friends, and playing with his dog.
---
---
Devotional Contents:
Men's Devotional | 2022 - Day 12