Men's Devotional | 2022 - Day 1
Standing Firm in Exile
By Dr. Robert Jeffress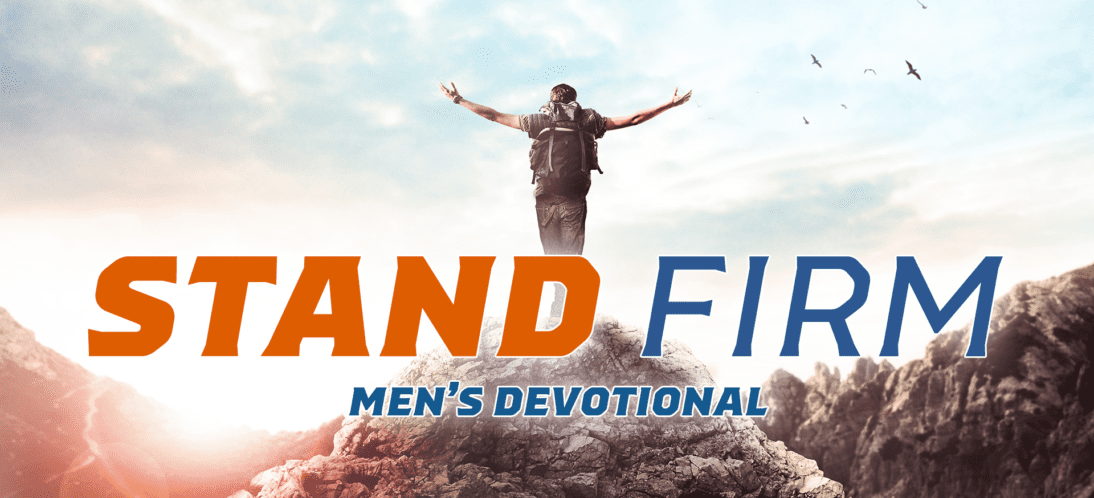 "Beloved, I urge you as aliens and strangers to abstain from fleshly lusts which wage war against the soul. Keep your behavior excellent among the Gentiles, so that in the thing in which they slander you as evildoers, they may because of your good deeds, as they observe them, glorify God in the day of visitation."

1 Peter 2:11-12
W e're in exile. But most of us don't want to admit it.
We all wish, in our unsanctified moments, that this world could be our true home. We can temporarily make ourselves forget that every pursuit in life is tinged by dissatisfaction and disappointment. We hold out a vain hope that we can find true and lasting happiness in the job we have, the stuff we buy, and the friends we make.
But not if we're in exile. Exile is a constant trial. Acknowledging exile means accepting that you will never feel completely at home here (Hebrews 11:13). You have to let go of any wishful thoughts that we can ever turn our earthly cities into the heavenly one (Hebrews 11:10). You have to embrace a life of tension, living here but longing for Heaven.
We have a remarkable example of how to live well in exile in the prophet Daniel. Babylonian forces extracted Daniel from his home. He suddenly found himself cut off from the Temple worship, from the promised land, and from God's chosen people. He was taken to the capital of the world's leading empire and conscripted into a three-year training course in Chaldean language and literature (Daniel 1:1–7). He was longing for Jerusalem, but he would live out his days in Babylon.
You can imagine different ways Daniel might have responded to exile. He could have plotted an insurrection or tried to escape. He could have cowered in fear. He could have flown below the radar, making the compromises necessary to get along with the rest of the king's elite circle. But Daniel chose none of these options.
Daniel struck out on a more difficult path, one marked by faithful engagement. Daniel engaged with his pagan city. He spent his entire adult life serving in its government, trying to improve the daily lives of people who knew almost nothing about the true God. And yet Daniel resolved to engage faithfully. He had certain lines he wouldn't cross, certain things he wouldn't do. He resolved to follow God's will in every area of his life. He resolved to stand firm.
As we learn from Daniel's life, standing firm in exile brings trials and tensions that other people don't have to deal with. The most dramatic episode came shortly after Daniel's rise to one of the highest positions in the government. This aroused the jealousy of the pagan government insiders. But when they searched for a way to defame his character, "they could find no ground of accusation or evidence of corruption, inasmuch as he was faithful, and no negligence or corruption was to be found in him" (Daniel 6:4).
Daniel had guarded his life against any impropriety. As Peter would encourage the church centuries later, "Beloved, I urge you as aliens and strangers to abstain from fleshly lusts which wage war against the soul. Keep your behavior excellent among the Gentiles, so that in the thing in which they slander you as evildoers, they may because of your good deeds, as they observe them, glorify God in the day of visitation" (1 Peter 2:11–12). Daniel did that. His conduct among the Gentiles was so exemplary, his enemies had to take a different tack. They reasoned, "We will not find any ground of accusation against this Daniel unless we find it against him with regard to the law of his God" (Daniel 6:5). They were right.
The king's officials cooked up a plan to simultaneously flatter the king's vanity and get Daniel into trouble. The corrupt officials targeted Daniel's faithfulness, outlawing prayers made to anyone but the king.
Daniel faced a choice. He could have stood down. But he chose to stand firm.
This led to a religious awakening for King Darius. He spent a restless night in prayer and fasting. When Darius discovered that Daniel's God had delivered him from the mouths of the lions, he sent out a new decree: "in all the dominion of my kingdom men are to fear and tremble before the God of Daniel; For He is the living God and enduring forever, And His kingdom is one which will not be destroyed, And His dominion will be forever" (Daniel 6:26).
A single man's decision to stand firm sent shockwaves through an entire kingdom. Daniel's faithful stand pointed people to the true God.
Like Daniel, we are in exile. Like Daniel, God is calling us to stand firm. And like Daniel, God can work through our faithful engagement to make Himself known throughout our communities, our workplaces, our neighborhoods, and our families.
Will you stand firm? Will you model for your city, for your church, and for your family what it looks like to be a godly man? Will you endure through the challenges that are sure to come?
---
Author Bio
Dr. Robert Jeffress
Dr. Robert Jeffress is the Senior Pastor of First Baptist Dallas and a Fox News Contributor. He is an adjunct professor at Dallas Theological Seminary, consistently makes guest appearances on various radio and television programs and mainstream media outlets, hosts a daily radio program, Pathway to Victory, and is the author of 27 books. He and his wife, Amy, have two daughters and three grandchildren.
---
---
Devotional Contents:
Men's Devotional | 2022 - Day 1