Men's Devotional | 2022 - Day 3
My Heavenly Father
By Ed Harrison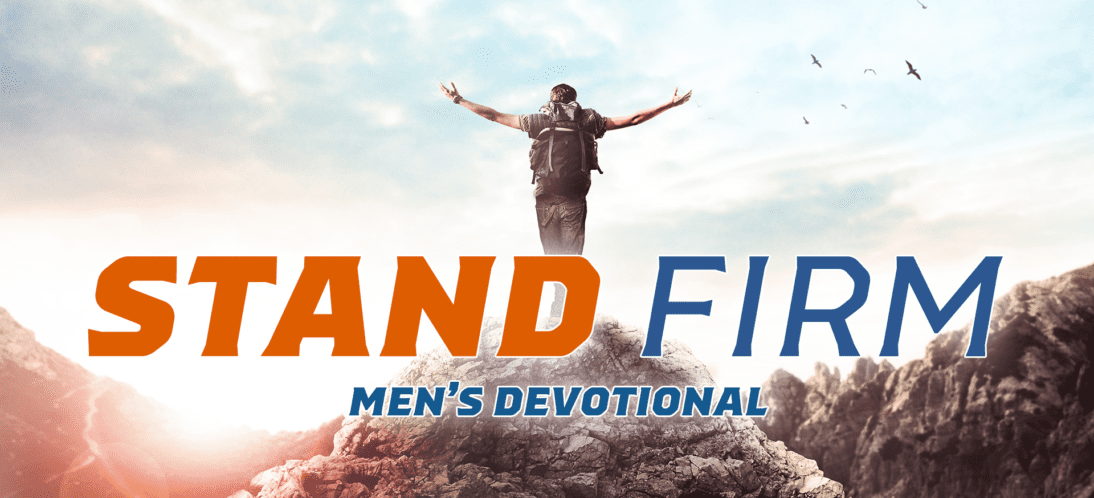 "A father of the fatherless and a judge for the widows, Is God in His holy habitation."

Psalms 68:5
F resh out of the Navy, I walked into a Sunday School class, and there sat one of the prettiest women I had ever seen! Soon, we began to date each other, and I found out that she liked me and had recently become a Christian. Later, I asked Trish to marry me. Of course, she said "yes," but with one condition—I would have to attend a multi-day Christian conference with her. I guess love causes a man to do crazy things.
During that conference, there was a moment when I sank into my seat with tear-filled eyes. The speaker had touched my soul when he quoted Psalms 68:5, "A father of the fatherless and a judge for the widows, Is God in His holy habitation." My father died when I was 13, and my mother told me she was glad he did.
My father was an alcoholic, and my mother was dysfunctional. My normal meant hearing fights in the middle of the night, dealing with my parent's separations, experiencing evictions, and moving from place to place and school to school. I was relocated from one family member to another and, at times, was homeless and hungry.
After dad died, I was immediately shipped halfway across the county while still only 13 years old to live with another relative. When I turned 16, I began living on my own, attending school, working to pay rent, buying food, and adopting a deplorable lifestyle. During one of my lowest times, after being expelled from school for not living with a parent, I had no one to help me.
Before my dad died, there would be extended periods when I did not see him. But when I was about nine, he left for a protracted time, and I had no idea where he was or why he left. Who knows, maybe he left because he didn't love me anymore? Regardless, I missed him terribly.
Then one day, I was riding with a relative who turned into a gas station. Out the window of that old two-door car was my dad! Coming to a stop, I was pushing the driver's seat back and grabbing the door handle in seemingly one motion. The door opened, and out I leaped into my dad's arms. I hugged and kissed him as I said, "Daddy, why did you leave? Where did you go?" At that moment, I again smelled the Old Spice cologne, not the Thunderbird wine. I was with my father again, who I loved and had missed so much!
But years later and back at the Dallas Convention Center, I began to see that God had become my Father. He had recently brought me to Him through His Son, and it was no accident remembering the verse, "I am a father of the fatherless." I tried to absorb what that meant—its ramifications, comfort, and promise. It meant I had an eternal Father who is immune to death and will dwell eternally with me. Sitting in that chair, I started to understand that my dysfunctional family and my father's death propelled me into the arms of God.
Maybe I'll see my dad in heaven one day. But, because I have a Father who is also my redeemer, I'm free to take on challenges I could have never imagined. When business was stressful, when my family life was tense, when I was near death, when marriage was a struggle, when temptation was tempting, my Father never left me. How could He? He is the "Father of the fatherless," He cannot die and will never leave me.
My dad was my dad because of his DNA. I could do nothing to change that fact. Now, my heavenly Father is my father because He adopted me, and I can do nothing to change that fact. I can "stand firm" because of a relationship through God regardless of my background. In Christ, I became a son of the most-high God. I am free to do what I could never have imagined. But, I have found that standing firm in my Father is not a promise of smooth sailing but a journey to His promised safe harbor in Christ promised in Ephesians 1:3-14.
Recently I learned that, biblically, an orphan is a child whose father had died, but not necessarily both parents. I was an orphan, not yet knowing about my heavenly Father. He gloriously became the "anchor of my soul" referenced in Hebrews 6:19. That same Father wants to be yours. Be encouraged by Romans 8:15 that says, "For you have not received a spirit of slavery leading to fear again, but you have received a spirit of adoption as sons by which we cry out, Abba! Father!"
---
Author Bio
Ed Harrison
Ed Harrison is a retired custom home builder and land developer of 40 years. He became a Christian serving in the Navy, and later graduated from Dallas Baptist College and Dallas Theological Seminary. After graduating, he taught for 15 years as an adjunct professor at Dallas Baptist University and in the College of Christian Faith. Ed has over 40 years of experience as a Sunday School teacher, and has taught the Life Now class at First Baptist Dallas for the last five years.
Ed and his wife, Trish, have been married for 45 years and have three children and 10 grandchildren. Ed enjoys flying and is a private instrument-rated pilot. He also loves cars, motorcycles, America, his family and teaching the Bible.
---
---
Devotional Contents:
Men's Devotional | 2022 - Day 3