Men's Devotional | 2022 - Day 2
The Journey
By David Dunton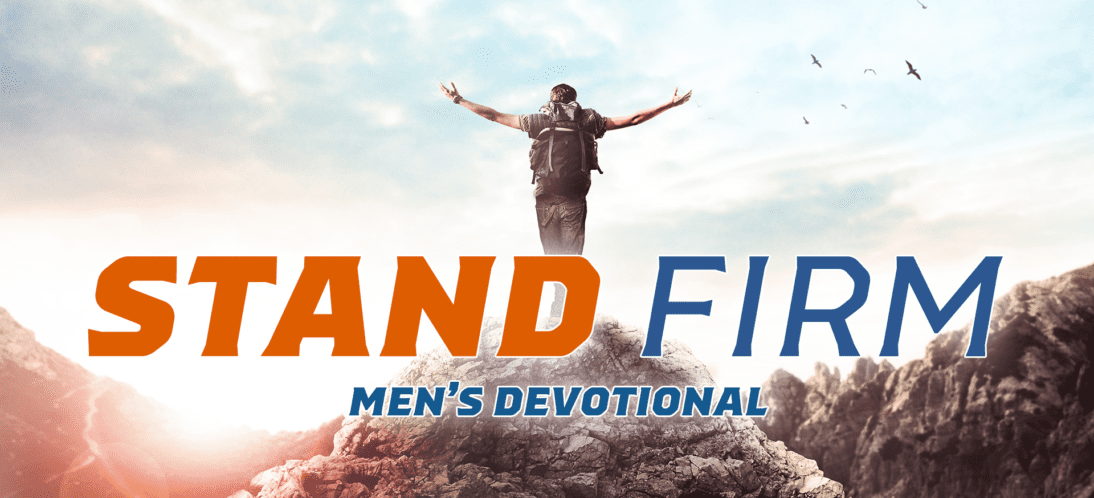 "You shall teach them diligently to your sons and shall talk of them when you sit in your house and when you walk by the way and when you lie down and when you rise up."

Deuteronomy 6:7
A s a society, we have become slow learners and fast quitters. Impatience is a contributor. Playing on my high school tennis team, I didn't enjoy long rallies; therefore, I would often hit higher-risk shots or strive for winners. That strategy often led to a quick loss or a quick win. Had I applied more patience, I might have had a longer tennis career.
After Marti and I got married, we went on several road trips. Later, I realized how different two people's conceptions of time and outcome could be. When my family went on a trip, it was usually a six-hour drive to see my grandparents. Picture six people loaded into our family sedan with three in the front seat and three in the back seat. It was all business. Eating and drinking in the car were "highly discouraged." We loved visiting our grandparents, but the trip began when we arrived at our destination. In contrast, Marti's family of four would take trips that included snacks, drinks, and a special box where surprise gifts would appear periodically. Sometimes trips even included their grandmother and her poodle. Regardless of the destination, the trip began when they left the house. One family took a journey. One family enjoyed the journey. It was an eye-opening life lesson that a trip is not just an act of getting somewhere, but it can be fun. The journey itself can also teach us something if we pay attention.
A few years later, it was time to pursue my long-held goal of starting a company. My business partner and I left our jobs and strategically decided that we did not desire third-party financial backing and would go a year without income. We each had two daughters under seven, and our wives did not work outside the home.
Due to our limited budget, John and I would drive to meetings around the state, share a motel room with two beds, and eat "free" breakfast. A few months in, we had a trip to Houston. The first morning before our meetings, I swam laps in the pool. As I got out of the pool, I could not catch my breath and got very dizzy. After laying down for several minutes, I was still breathing heavily, and my heart was beating out of my chest. I typically ran or worked out five days a week, so being that winded was odd, but I ignored it. I went back to the room, showered, and got ready. I could see my shirt moving as my heart was beating like a rabbit during our meeting. When I would stand up, I would nearly pass out and continually had to sit down. After a few days of meetings, we drove home, and I went to see a cardiologist. After an EKG, the doctor said, "you've got a problem, and I'm checking you into the hospital." I was so focused on what I needed to do for my fledgling business that I was shocked. My heart was running at 150 bpm for several days, and the doctor had to use cardioversion to get my heart back into the proper rhythm.
While in the hospital and before getting my heart issue resolved, my blackouts continued. At one point, I crumpled in an awkward position. That resulted in lower back pain diagnosed as a ruptured disc in my lower back. Soon, I was back in the hospital for back surgery to clean up the disc, followed by six weeks at home and no more driving and no meetings (the days before Zoom).
Car trips taught me to pay attention to the journey. God got my attention. I never felt stressed or abandoned as we faced these new challenges while trying to launch a business. I felt at peace. God was growing my faith by teaching me to persevere. I began to rely less on my strategy and accomplishments and more on trusting Him.
Although we hope to look back someday and see results, the Christian life cannot be a series of checklists and achievements. Anyone who has been part of a gospel-sharing mission trip learns that a trip has a beginning and an end, but missional living does not. What we do for a week in a foreign country needs to happen every day. It's not a Sunday thing or something we schedule. Instead, it is who we are and results in what we do.
Deuteronomy 6:7 says, "You shall teach them diligently to your sons and shall talk of them when you sit in your house and when you walk by the way and when you lie down and when you rise up." God's word needs to be integrated in our lives daily so it can be a part of life's journey.
James 1:4 says "And let endurance have its perfect result, so that you may be perfect and complete, lacking in nothing." Christian maturity has no endpoint. If we're seeking an endpoint, we're focused on tasks. God wants to move us forward in a spiritual relationship.
---
Author Bio
David Dunton
David and Marti met in the Career Class and were married at First Baptist Dallas 32 years ago. They have two daughters and sons-in-law—Bailey and Ricky Hobson have been married four years, and Maddi and Brendan Waller have been married six months. David and Marti have directed adult Sunday School classes for 20 years and have been student worship sponsors. They were even ninth-grade Sunday School teachers many years ago. David is an active Deacon, Pastor's Prayer Partner, and member of the FDMI Board and Planning Development Committee.
---
---
Devotional Contents:
Men's Devotional | 2022 - Day 2